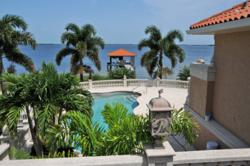 This home is a remarkable value and represents why so many people are moving to this lake filled region.
Lake Placid, Florida (PRWEB) August 13, 2012
Higgenbotham Auctioneers International (HAI) will offer at auction a 9,300sf± Lake June home at 11am on Saturday September 1st. The palatial home is located at 363 Catfish Creek Road, Lake Placid, FL along the pristine shores of Lake June in Winter. Downloadable information is available at Higgenbotham.com.
The waterfront luxury home features an open roomy floor plan with large vista style windows overlooking Lake June in Winter. There are three bedrooms and five full baths, a majestic pool and spa, guesthouse, large master suite, private dock with an electric boatlift and gourmet kitchen. The home has private gated access and boast 206 feet of lake frontage. Situated in the Placid Lake subdivision. Known for its excellent bass fishing, Lake June spans more than 3500 acres and is considered one of the best recreational lakes in Florida.
The home is available for preview from 10am-2pm on Saturday, August 25th and 1-4pm on Friday, August 31st. Prospective bidders may also tour the home two hours prior to the auction.
"Lake Placid is such a pleasant place to live. It has a fabulous history and it's quite rural setting allows one to get away from the bustle of every day life," commented Earl Williams an Auction Manager for HAI.
Situated along US highway 27 in Highlands County, Lake Placid is convenient to both Florida coasts with hot spots like Miami, West Palm Beach and Fort Lauderdale just a leisurely drive away. Known as the Caladium Capital of the world Lake Placid produces 98% of the world's commercial caladiums. The rural town is also renowned for its 40 downtown murals depicting its rich history.
"This home is a remarkable value and represents why so many people are moving to this lake filled region. The auction is a buyers opportunity to name their own price for this spectacular lake front property," stated John Haney, HAI's General Manager.
About Higgenbotham Auctioneers International Ltd., Inc.:
Founded in 1959, Higgenbotham Auctioneers International ("HAI") is headquartered in Lakeland, Florida and specializes in the sale of corporate real estate throughout the United States and the world by utilizing the auction method of marketing.
HAI is an alliance partner of NAI Global and enjoys continuing relationships with Fortune 500 clients such as Alcoa, International Paper, Wal-Mart Realty, and Sinclair Oil, as well as many publicly traded and closely held companies.
For complete information about Higgenbotham's auction process or its current auction calendar visit higgenbotham.com or call 800-257-4161