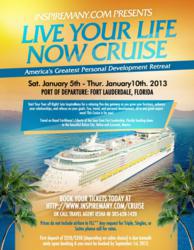 Setting Goals is an art, learn from the best on how to start the year with the right mindset and gameplan. Book cruise by September 1st,2012.
Hollywood, FL (PRWEB) August 14, 2012
InspireMany.com presents America's Greatest Personal Development Retreat, Live Your Life Now cruise sailing Jan5-10th, 2013. Deposits must be paid by September 1st, 2012. Inspire Many chose an innovative and exciting route to empower followers seeking a positive and productive start to their new year. Those who partake in this event will be exposed to other entrepreneurs and professionals and have access to life changing seminars. Announcing, the faculty of the cruise, Black Enterprise Featured and co-host of Fiscally Fit Healthy Relationship/ Lifestyle Expert, Casandra "Coach Cass" Roache, among many topics, will teach vital tips on how to live within financial means and still do everything desired. In her interview, Coach Cass shared her story of overcoming $14,000 of debt and rising to be able to do what she loves, travel. Strategic Storytelling Expert, Andy Henriquez will educate attendees how to improve their communication skills and use storytelling to obtain more influence, promotions, increased sales, business growth and create greater impact. Past attendees have increased walked away empowered, with a focused game plan, and the support system to follow through and achieve. Testimonials show debt elimination, published authors, increased revenue, improved relationships, and living a live filled with purpose.
The Live Your Life Now attendees will voyage to Belize and Cozumel, Mexico. While enjoying the culture and activities both on and offshore, attendees have the opportunity to not only enrich themselves, but to also assist in raising money for United Way.
The Live your Life Now Cruise is the #1 way to start the New Year. Travel, Food, Dancing, Learning, and connecting with people who have the right focus! Join us on the ship for the best time of your life! Cruise must be booked by September 1st, 2012.
###
About Inspire Many
InspireMany.com is a Florida based Corporation founded by Casandra "Coach Cass" Roache on the principles of integrity, excellence, and execution. The objectives are to help entrepreneurs redefine what success is by their own standards, no longer living for someone else or seeking validation to grow their business and improve their relationships. Inspire Many creates lasting value through personal/ professional development workshops, coaching, and events to change the lives of all those who actively participate.
Coach Cass will be featured in the September 2012 issue of Black Enterprise and was also recently given the opportunity to appear in Woman's Day. Coach Cass encourages all to leave the excuses behind, and live their lives now.