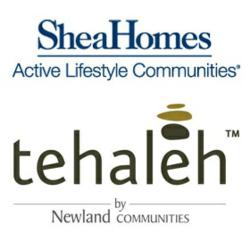 Bonney Lake, WA (PRWEB) August 13, 2012
Today Newland Communities, with their joint venture partner North America Sekisui House, LLC (NASH) and Shea Homes Active Lifestyle Communities® announced they will build Pierce County's first-ever active adult community, as part of Tehaleh™, a 4,200-acre planned mixed-used community that was acquired by a joint venture between Newland and NASH in March 2011. Shea Homes is now the fifth builder to purchase land in the community's first phase, and the only one exclusively serving the age-restricted buyer. The relationship between these nationally-recognized companies, Shea Homes as the homebuilder and Newland Communities as the master developer, will result in Shea being the sole provider for Tehaleh's age-restricted active lifestyle community of up to 500 homes.
Shea Homes, the only homebuilder in the country to be recognized as a J.D. Power and Associates® Customer Service Champion for two years in a row (2011 and 2012), and one of only 50 companies in the U.S. to receive the distinction at all, is nationally-acclaimed for its communities designed specifically for baby boomers. In Tehaleh™, Shea Homes Active Lifestyle Communities will offer a variety of homes ranging in size from 1,450 to 2,250 square feet with prices starting from $235,000 - $357,000. The community, designed to cater to residents seeking resort style living, will feature world-class clubs, state-of-the-art fitness facilities and a diverse range of recreation and continuing education opportunities, all revolving around a lifestyle focused on wellness, exploration, learning and new friendships.
"Home design remains paramount for us, as we know things like eco-friendly design, single-story layouts, natural lighting and Five Sided Architecture™, which makes each home's exterior unique, are very important to the active lifestyle buyer," said Richard Obernesser, area vice president at Shea Homes. "We're honored to be a part of Tehaleh and add to the creation of a sustainable, livable, beautiful and family-oriented community."
"We're excited that Tehaleh's active lifestyle community will have Shea Homes' signature energy efficiency, smart design and outstanding community amenities," said Bob McLeod, chairman and CEO of Newland Communities. "Given Shea's reputation and its success with other projects in Washington State, we know there is pent-up demand for this unique product in this market."
Tehaleh is planned to feature area schools, a fire station, over 1,000 acres of parks and open space, an extensive network of trails and a village center. Upon completion, Tehaleh is planned to have approximately 5,900 homes, a 419 acre employment center and 3.9 million square feet of commercial/retail space.
Shea Homes' new relationship with Tehaleh will draw on experience in the local area with Jubilee® in Lacey and Trilogy at Redmond Ridge in Redmond, as well as other active lifestyle communities in California, Florida, Arizona and Nevada.
Before opening, Shea Homes is seeking feedback about home design and amenities from customers to ensure that the needs of active adult lifestyle consumers in Washington are being met at Tehaleh™. Shea Homes will be holding design review sessions in the coming weeks to refine the homes and amenities planned for the community.
About Newland Real Estate Group, LLC
Newland is a diversified real estate company leveraging a national platform and over 40 years of experience to perform challenging and diverse development, investment, management, and advisory services across a wide range of real estate. The company's mixed-use development business, Newland Communities, actively owns, operates and develops premier residential master-planned, commercial, retail, and urban mixed-use real estate across the U.S. Headquartered in San Diego, Calif., Newland and its affiliated companies have completed, or have underway, more than 140 diverse real estate developments, more than 20 million square feet of commercial and retail space, and 175,000 residential units in 14 states.
About Shea Homes Active Lifestyle Communities
Shea Homes Active Lifestyle/Trilogy communities are high-end retirement resort communities offering a new choice in living to those looking for an exciting lifestyle that revolves around wellness, exploration, continued learning and close personal connections. Architecturally superior product design and amenities reflect the changing needs of the baby boom generation, including business services, world-class clubs, state-of-the-art fitness facilities and a diverse range of recreation and education opportunities. More information about 55+ resort communities by Shea Homes is available by visiting TrilogyLife.com or calling (800) 685-6494. Those interested in design reviews should contact Shea Homes at 877-221-3261 or visit SheaTehaleh.com.
Homeowners are also members of the resort-style clubs at each active adult community, where they enjoy activities such as wine tasting, working out in state-of-the-art athletic clubs, swimming, artistic classes, cooking classes in professional demonstration kitchens and championship golf and tennis. Active Adult members also benefit from delicious on-site dining with signature Good Life Cuisine™, connecting with the world at internet cafes and relaxing in full-service day spas, all amongst people who share a spirit of fun and exploration during this exciting stage of life. With choices to suit homeowners in every stage of life, Shea Homes offers new homes ranging from affordably priced condominiums and townhomes to traditional single-family detached homes, magnificent luxury residences and resort-style retirement communities.
About NORTH AMERICA SEKISUI HOUSE, LLC (NASH): NASH is the U.S. business operations unit and a full subsidiary of SEKISUI HOUSE, LTD., Japan's largest homebuilder and a leading diversified developer since 1960. NASH establishes joint ventures to build innovative and sustainability-conscious master planned communities. NASH is headquartered in Arlington, Virginia, and SEKISUI HOUSE is headquartered in Osaka, Japan, with affiliates and subsidiaries around the globe. Tehaleh development joint venture is one of NASH's consolidated subsidiaries. http://www.nashcommunities.com
###