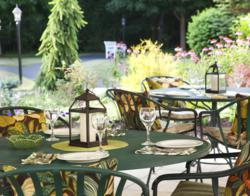 Many residents re-engineer their lives in assisted living, finding new and exciting ways to stay engaged.
Hingham, MA (PRWEB) August 13, 2012
Location, location, location! This guides where someone might purchase a home, and also influences the decision of where a parent might be most comfortable in a rental assisted living residence. Allerton House at Harbor House in Hingham is ideally situated in a beautiful South Shore, MA coastal community, just minutes from Hingham Harbor and downtown square. The assisted living residence is nestled among the pines and has the feel of a charming country estate. With only 70 apartment-homes, the community never feels overwhelming in size and yet there are plenty of residents with whom to build friendships, share interests and join for dinner or outings.
If first impressions are important, then visit the New Community Photo Gallery for Allerton House in Hingham, Massachusetts.
On any given day, Hingham Allerton House residents and their guests can be found in animated conversation or enjoying a good book on the front porch, which is beautifully landscaped with the season's prettiest summer plants and flowers. For fitness, many residents choose to walk daily on one of the community's walking paths. And when it comes to dining, residents may enjoy scrumptious snacks in the country kitchen and elegant dinners in a sun-filled dining room, overlooking the front porch.
Allerton House in Hingham has a long tradition of celebrating its residents. Almost monthly, The Hingham Journal features resident profiles, in a column known as "The Allerton Spirit." The community has been home to artists, writers, school teachers, nurses, lawyers and community organizers as well as exceptional homemakers and volunteers. Many residents re-engineer their lives in assisted living, finding new and exciting ways to stay engaged or "give back."
The community's free health education programs are designed to foster a greater sense of well-being. Barbecues, concerts and musical events bring a sense of joy to community residents, families and staff. Whether adults 62 and older or an older parent needs a little bit of assistance or none at all, Allerton House in Hingham can help families create a new home that offers the best in comfort and care, with a hefty dose of peace of mind!
Call or email Carol Taylor for a personal visit at 781-749-3322 or ctaylor(at)welchhrg(dot)com or to learn more about Assisted Living Week activities at Allerton House at Harbor Park in Hingham (September 9 - 15). Visit the New Community Photo Gallery and see why people love living along the Massachusetts South Shore at Allerton House in Hingham.
Welch Healthcare & Retirement Group is a Massachusetts based family-owned senior services company. Allerton House at Harbor Park in Hingham, MA is one of five assisted living communities owned and managed by the Welch Group. Allerton House in Hingham is part of a continuum of care that includes Harbor House Rehabilitation & Nursing Center and the Adult Day Memory Care Program at Harbor House. Visit online at: http://www.welchhrg.com/assisted-living-ma/index