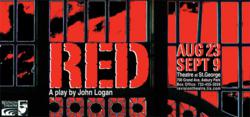 Artistic Director Bob Angelini said, "With brilliant artistry, Ronald Brown and David Murgittroyd prime ReVision Theatre's first dramatic canvas and offer us a once-in-a-lifetime performance.
Asbury Park, NJ (PRWEB) August 13, 2012
ReVision Theatre Presents
RED
By: John Logan
Directed by: Bob Angelini
Casting by: Erin Brautigan
Featuring: Ronald Brown and David Murgittroyd
Theatre at St. George
700 Grand Ave. Asbury Park, NJ 07712
August 23 – September 9
For the first time in its five year history in Asbury Park, ReVision Theatre will be producing a drama, Red. This gripping play by John Logan about the abstract expressionist artist Mark Rothko was originally produced in London in December 2009 and transferred to Broadway in 2010. The Broadway production won six Tony Awards including Best Play. This intense and exciting two-character bio-drama starred Tony nominated Alfred Molina and Tony & Olivier winner Eddie Redmayne (Broadway debut) and ran for 101 performances. Mr. Logan's previous credits include the screenplays for "Hugo", "Gladiator" and "The Aviator". The New York Times called Red "a portrait of an angry and brilliant mind that asks you to feel the shape and texture of thoughts…(and) captures the dynamic relationship between an artist and his creation."
Set in a New York studio in the Bowery as the artist Rothko sets out to paint a series of murals for a lucrative commission at the Four Seasons in New York City, his assistant, Ken, questions Rothko's theories of art and decision to accept such a commercial project and plants doubts about the appropriateness of hanging his paintings in such a "temple of consumption."
Artistic Director Bob Angelini said, "With brilliant artistry, Ronald Brown and David Murgittroyd prime ReVision Theatre's first dramatic canvas and offer us a once-in-a-lifetime performance. John Logan wrote a masterpiece in Red. His ability to deliver us into the mind of Mark Rothko is uncanny. Red allows us to see what the artist sees and feel what he feels. Logan exposes Rothko's innermost thoughts about art and life and invites us to gaze within our own soul. If a picture paints a thousand words, then Red is the classic that has emerged from Rothko's finest painting. Red will be hung in the finest literary galleries for generations."
"It is really quite exciting to be involved in another production of John Logan's Red," said Ronald Brown. "This is my second opportunity performing the role of Mark Rothko and the magnificent writing in this award-winning play is both challenging and incredibly rewarding for the actors."
Brown recently portrayed Rothko at The Pistarckle Theatre in St. Thomas. Before that he appeared in New York in A Wonderful Life and All-American. No stranger to musical theatre, Ron has received popular and critical acclaim for his numerous portrayals of Don Quixote in Man of La Mancha, Juan Peron in Evita, and Daddy Warbucks in Annie and its sequel Annie Warbucks. He has called New York City 'home' for 18 years.
"I am loving my experience with Red at the ReVision Theatre, "said David Murgittroyd, who will be portraying the role of Ken. "This piece is a powerhouse and it's a pleasure working with and constantly learning from Ron and Bob." David has performed several times in the New York/New Jersey area, as well as regionally including The Shakespeare Theatre in Washington DC, and internationally in Edinburgh. He can be seen in multiple television commercials, independent films, and was seen on A&E's "The Fugitive Chronicles".
Main Stage performances are Wednesday through Sunday; Thursday, Friday, and Saturday at 8 p.m., Wednesday and Sunday at 7 p.m. The show runs approximately 90 minutes with no intermission. Tickets are available online 24/7 at http://www.revisiontheatre.tix.com and information is available online at http://www.revisiontheatre.org. Patrons can also purchase their tickets by visiting the Theatre at St. George located at 700 Grand Avenue, Asbury Park, NJ or calling the box office at 732-455-3059, Monday through Friday from 12 noon to 6 p.m. or anytime leading up to a performance.
ReVision Theatre is a professional regional theatre company dedicated to producing invigorating theatre with a fresh new perspective reaching the diverse community of Asbury Park, Monmouth County and beyond. ReVision Theatre produces reinventions of previously produced classics, overlooked or forgotten work in a new way, and new work with a fresh voice. ReVision Theatre now in its' fifth year, produces readings, workshops, cabarets, concerts, and mainstage productions.
#