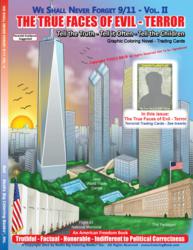 Truthful and honest education about serious subjects is an essential part of learning..., Wayne Bell.
(PRWEB) August 14, 2012
The We Shall Never Forget 9/11 Vol. II The True Faces of Evil - Terror (parental guidance suggested) is about the real world. It is about being human: Good vs. Evil. There is no fantasy in this book. The book is designed as a consumer friendly, family publication for use with children and adults, this excellent graphic coloring novel helps expand understanding of the factual details and meanings in the War on Terror.
Inside this edition are several pages of perforated, removable card-stock terrorist trading cards. Inspired by real people, real life and reflecting the truth, Vol. II presents terrorism in direct open simplistic terms: what it is, what it looks like and what it means. In this book you will find names, dates, numbers and locations exposing the men, women and governments behind terror as we begin to hold them accountable. Details include a letter from within the Department of Homeland Security signed by five current Congressional Leaders, a service organization page directed to the public and family friendly action notes, and The Congressional H.R. 847, the 9/11 Health & Compensation Act. Also in the book is a recap of pages from the original 9/11 Coloring Novel published in August of 2011.
Composed with a clear message the graphic, coloring book novel calls out for open and honest discussion, says Bell. He adds: it's natural to educate children about something besides the "TMZ Society" which bombards them with "important" news. Truthful and honest education about serious subjects for youth is an essential part of learning and considered a critical step in beginning to comprehend the world in which we live.
In describing the inherent bad nature of a terrorist, the novel features their horrific crimes. This is Good vs. Evil. We Shall Never Forget 9/11 Vol. II Terrorist Trading Cards clearly identifies the evil that may sit next to you on an airplane, or it could be an avowed Atheist in the parking lot of your local grocer on a sunny morning. The world should look at them, make fun of them, name them - shame them, recognize who they are and rid the earth of them. No comic book published, nor any nightmarish fiction written, can compare to the absolute evil pictured in this book, stated, Wayne Bell Publisher. And realize as well "They" are not finished. Imagine a terrorist with a nuclear bomb.
Really Big Coloring Books, ® Inc. (RBCB) headquartered in St. Louis, MO is a multinational company providing coloring and activity book products for over two decades. Known for their market leading positions, RBCB'S family of trademarked products are classic, colorful and unique. The company products are multicultural, multilingual and representative of all people. The company uses soy based inks, prints on recycled paper and they participate in Sustainable Forestry Initiatives. With retail, fundraising, custom, educational and creative divisions, Really Big Coloring Books owns and operates over 600 "coloring book" domain names.
Really Big Coloring Book ® products can be purchased at major retailers, including book sellers such as Amazon, Barnes & Noble, Abe Books, many independents and in comic book stores and various sundry locations. To find out more call 1-800-244-2665.