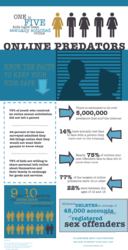 "There are over 5,000,000 predators that surf the Internet and 77% of the targets of online predators were 14 or older" states Tim Woda, Internet and mobile safety expert
Arlington, VA (PRWEB) August 13, 2012
uKnowKids, a leading child safety company announced today the release of "Online Predators" the fifth of a series of infographics that addresses the alarming number of teens getting targeted by online predators. The results show that more kids are being targeted each year and that this growing problem needs to be addressed immediately. Internet and Mobile Safety expert Tim Woda stated, "there are over 5,000,000 predators that surf the Internet and 77% of the targets of online predators were 14 or older."
As part of its commitment to keeping children safe, uKnowKids has designed a campaign to inform parents of the importance of teaching children online safety so that they aren't targeted by online predators. Woda wants to ensure that kids understand the serious dangers of talking to or meeting unknown people because "14% of children have actually met face to face with a person they have met on the Internet and nearly 75% of victims who met offenders face to face did so more than once."
uKnowKids provides the following tips on online predators for parents:

Know who you are talking to: Children are curious and naïve and don't understand that everyone doesn't have their best interests at heart. They need to be aware that there are people out there who may want to harm them. Kids shouldn't add friends on their social media sites if they haven't met them in person and if their parents don't know who they are.
Personal information: Just because someone asks for it doesn't mean you have to give it. You don't know why the person wants your personal information and more importantly don't know what they want to do with it.
Privacy: All social media accounts should be set to private where only friends can view profiles and information. If it's not private you allow predators and unwanted visitors knowing information about your child.
Talk to your children: Make you sure you discuss the protocol of what to do in case they are approached by someone they don't know online. Make it easy for them to be able to tell you what's going on in their digital world.
Use a Parental Intelligence System: It is the parent's job to keep their child safe and the only way to do that is to monitor their phone calls, text messages, and social media sites. It's important to stop any situation before it becomes a catastrophe.
To help establish child safety this coming school year, uKnowKids will be featuring a new series of back to school tip sheets each month. Stay tuned for our first tip sheet "What You Need to Know About Your Child's First Cell Phone"
Please note that website bloggers can copy the infographic onto their own site to share with friends and readers by downloading here—
http://info.uknowkids.com/online-predators-infographic
About uKnow.com
Founded in 2009 and headquartered in Arlington, VA., uKnow.com is the only company that offers a parental intelligence system available for both private-label and consumer use. The company powers the world's leading Parental Intelligence Systems including uKnowKids.com, KidSafe.me, SafeCyberKids.com, SocialFirefly.com, aBeanstalk.com, MySocialScout.net, and p911Safety.com, among others.
uKnow.com works with companies and organizations to help parents protect their kids from child predators, sexting, and cyberbullying with a special focus on social networks and mobile phone. uKnow.com's technology provides parents with a bird's eye view of what is going on in their child's digital world so that they can keep their finger on the pulse, and when necessary, take action to protect the safety and privacy of their kids. You can find uKnow.com on Twitter at twitter.com/uKnow_com, on Facebook at facebook.com/uKnow.com, and on their Parenting Blog.