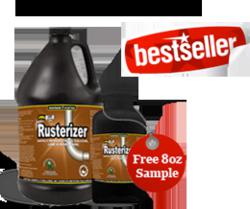 But despite being gentle in a way to health and the environment, the solution is tough to rust...
Seattle, WA, (PRWEB) August 14, 2012
Rust can damage almost any item or surface. At some point, it can even render a furniture piece or an equipment useless. Because of that, rust treatment is needed right after the corrosion is discovered. And to help the public do it like a professional but without spending too big, Rusterizer introduces its rust removal spray that is also the secret of most rust contractors to a safe and effective rust treatment.
Try the Safe and Effective Rust Removal Spray Today
As rust is triggered by moisture, some of the most susceptible places to its development are houses. And among the parts of a house, it often occurs in kitchen, bathroom and the garage. The reason is that water or moisture is always present in those areas.
If not immediately cleared, rust can spread fast. To a metal item, that can cause weakness as it can detach one part from the other. In return, rusty furniture, tools or equipments could cause accidents. Meanwhile, to non-metal items, rust stains can cause a decrease of aesthetic value. The brownish color that it leaves could make a piece look unsightly.
For all of its negative effects in the functional and aesthetic sense, it is important for rust to be immediately cleared, said Rusterizer.com. However, it added that it should not be in a way that the health of anybody is put at risk. And so, among others, it only advised the use of a non-toxic rust removal spray.
Particularly, Rusterizer advised the use of its own rust removal product. Made with natural ingredients, the product also known as Rusterizer can deliver a truly safe rust treatment, it said. The absence of chemicals spares its users from dizziness, headaches and breathing difficulties and it also saves the environment from more pollutants released.
See Rusterizer in Action!
But despite being gentle in a way to health and the environment, the solution is tough to rust, said the site. That was made sure by the intensive research conducted by the company and can be proven true by the first users of Rusterizers, it stated.
However, those two good things aren't the only ones that Rusterizer promises. It also offers savings to its consumers. Because the product is safe, it can cost its users no unnecessary medical expenses. Apart from that, because it is effective, it requires no scrubbing for hours and multiple repeat of the treatment. Basically, that saves time, effort and money.
And so to all homeowners who struggle to solve their rust problems without spending too big and to new rust contractors who want to lessen their labor cost, Rusterizer urged the use of rust removal product. It said that with its benefits, it surely is the best rust remover that anyone can get.