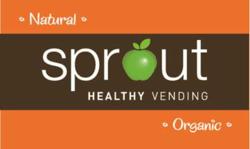 (PRWEB) August 14, 2012
"My husband and I have wanted to be business owners for a long time. We have looked into many possibilities and Sprout Healthy Vending is the one that was the best fit for our family. We lead healthy, active lifestyles and wanted to find a business that reflected that," Adler shares.
To start this business the Adler's decided to relocate and they ended up choosing Oregon because they felt it was ultimately the best place to raise their children as well as an optimal area for business. "Portland is ahead of the curve as far as healthy living so we believe that the healthy vending will take off here. They will no doubt see a real value in what we have to offer," Adler says.
Adler continues, "We are very excited to offer healthy vending to our new community. We are especially excited to work with schools to assure that the children are given healthy options. After having children of our own it is very important to us to make sure that schools are providing less junk and more health food."
Both Heidi and Scott were born and raised in Indiana and have lived in California for the past ten years. Having completed several triathlons, Scott understands the importance of maintaining a healthy lifestyle. Scott is also very involved in coaching his children's sports activities. Heidi is a certified Pilate's instructor and just completed her very first marathon and recently received her CNC (certified nutrition consultant) from the Natural Healing Institute.
"The food that we consume should be fuel for our bodies, not loaded with sugar and chemicals," Adler says. "By offering healthy options in the community we are doing our part to keep our friends and family healthy."
Co-Founder Chris Wyland states, "It's amazing how eating healthier foods can have such healing benefits on the human body. Even the smallest changes can produce life-long results. To have our kids start at an early age will help them maintain healthier lifestyles as they grow old enough to make their own choices. Scott and Heidi's decision to relocate and start this business while their children are so young shows their dedication and passion for nutrition. It also proves that they will be exceptional Sprout Healthy Vending operators. I am proud to have them in the Sprout family."
"I think that Sprout offers a unique opportunity to start a great business and also to do a lot of good for the community. It is a business that we will be proud to have our children grow up being a part of," Adler says.
About Sprout Healthy Vending
Sprout Healthy Vending provides state-of-the-art vending technology, thousands of healthy and organic products and turnkey customer solutions for regional operators. Currently, Sprout Healthy Vending has over 70 operators in 40 markets in the U.S. with 1,000 individual locations projected by the end of 2012. To learn more about the company, locations and products please visit http://www.sprouthealthyvending.com or call (800) 450-7648.