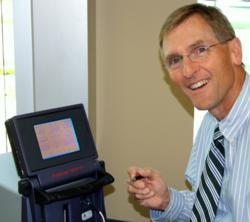 Richardson, TX (PRWEB) August 12, 2012
Kerry M. Goad of Goad Dental sees patients that have lost teeth for a variety of reasons. An accident can happen at any time that knocks a tooth. In addition, extensive decay may require that a tooth be pulled or may simply destroy the tooth. Advanced periodontal disease can also cause tooth loss. In any of these instances, dental implants are a viable option for replacing missing teeth.
Dr. Goad is a dentist that cares about the dental health of his patients. He is happy to be able to provide dental implants as an accepted way to fill in the spaces that missing teeth leave in the mouth. Whether many teeth are missing or just one tooth is missing, the jawbone can be affected. Without the root of the tooth to stimulate the jaw, the bone begins to disintegrate. If there is no new stimulation, it can cause some serious issues in the jaw. Teeth can move out of place and the face can begin to look "sunken-in."
A dental implant is made of titanium, which fuses with the jaw. It effectively acts in much the same way the natural tooth's root acts and stimulates the jawbone to maintain strength. The titanium implant is surgically placed into the bone, and then an abutment and crown are attached to it. The crown is shaped and colored to look like a natural tooth, and with the strength of the titanium implant it can also function like a natural tooth.
Implants may be used whether there is a single tooth or a number of teeth that need replacement. They have been shown to last for many years, and most of those that were implanted in the late 1980s and early 1990s are still functioning properly. This makes an implant a long-term tooth replacement. It is important to consult with a dentist when determining eligibility for implant surgery. Other dental procedures may need to be done in preparation for implant surgery. For information on the implant procedure visit dallasgumsurgery.com.
Goad Dental is a general practice offering patients personalized dental care for Richardson, TX. Dr. Kerry M. Goad received his Doctor of Dental Surgery (DDS) from Baylor College of Dentistry in Dallas, Texas. He completed advanced training in restorative dentistry at the L. D. Pankey Institute in Key Biscayne, Florida, and is part of one percent of dental professionals providing the most recent FDA cleared laser procedure for gum disease and periodontal treatment. To learn more about Goad Dental and their dental services visit their website at http://www.dallasgumsurgery.com and call (972) 690-6653.