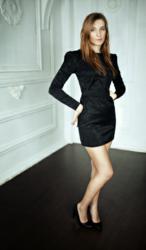 A large, blingy necklace with a chunky bracelet is too much. Your accessories should never compete.
Houston, TX (PRWEB) August 17, 2012
While iconic French fashion designer Coco Chanel is often cited as the originator of the versatile, efficient and classic piece popularly known as the little black dress (LBD), its style has been remixed and remastered since the 1920s, as scores of women add their personal touch to this timeless look. Today, luxury clothing and accessory retailer Rodeo Drive Resale lists 5 ways to add a bit of flair to the little black dress.
1) With Heels That Rock: A bold pair of Manolo Blahnik designer heels can be a great way to add a modern twist to a classic dress. A night on the town, a trip to the museum, that special date, or any equally fabulous occasion make for the perfect opportunity to let your personality shine (and add a bit of height) with a dazzling pair of high heels matched with the knee-length black dress. No matter the color, style or particular brand of heels ultimately decided upon, be sure they are dress-worthy: Heels act as the co-star to evening wear with the little black dress serving as headliner.
2) Wrap A Belt Around Your Waist/Accessorize: Designer accessories, such as a luxury belt or a pearl necklace, are simple ways to make the little black dress shine. Other fun pieces that can be paired with the LBD are rings, earrings and bracelets. However, Rodeo Drive Resale co-founder Raya Jaffer was careful to point out that less is more when accessorizing: "A large, blingy necklace with a chunky bracelet is too much. Your accessories should never compete."
3) Cozy It Up With A Sweater Or Cardigan: Believe it or not, the little black dress can be worn around the workplace -- with a pair of pumps and quality blazer, sweater or cardigan, of course. St. John Knits, popular for its knit pants and similar pieces, has an array of wool sweaters and beautiful cardigans that are just perfect for those chilly days in the office.
4) Grab A Clutch: A colorful clutch makes for an excellent contrast to the little black dress. The burst of color is surefire attention-grabber; experiment with colors such as red, gold or even animal-print to create a fearless look. While an authentic designer clutch from notable fashion houses like Louis Vuitton, Chanel, and Fendi can cost a pretty penny, these staples of upscale style are crafted with quality and care that, when properly sustained, will stand the test of time. "The majority of your accessory budget should be dedicated to a quality handbag. Designer handbags typically do not go out of style, which is good because they can last for many years," Raya said.
5) Keep Things Simple: Of course, one can always opt to go traditional: With the many ways to add dazzle and flair to the little black dress, perhaps the best exercise of style in an age of excess is minimalism. Simplicity, after all, is the ultimate form of sophistication.
Rodeo Drive Resale (shopRDR.com) has built a reputation of providing amazing deals on handbags, clothing and accessories from the top designers of upscale fashion. The company offers a 100% guarantee of authenticity on each item sold, and works daily with a network of clients looking to buy, sell, or for consignment of their luxury goods. ShopRDR.com loves high-end fashion, and believes finding a high quality, classic piece should be an easy, enjoyable -- and most importantly -- hassle-free shopping experience. For the finest in Louis Vuitton, Chanel, Prada, Gucci, St. John Knits, Christian Louboutin, Tiffany & Co. and more, visit RDR online at http://www.shopRDR.com or call 1-888-697-3725.
Also find shopRDR at:
Facebook: facebook.com/shopRDR
Twitter: twitter.com/shopRDR
YouTube: youtube.com/ shopRDR
Pinterest: pinterest.com/shopRDR
Rodeo Drive Resale (shopRDR.com)
1-888-697-3725
service(at)shopRDR.com