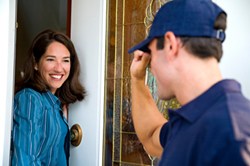 Denver, Colorado. (PRWEB) August 14, 2012
Startup company CitizenShipper.com offers a unique solution to shipping items efficiently and economically across America while opening a multi-billion dollar marketplace to anyone with a drivers license willing to do delivery jobs. The idea is deceptively simple - for anyone planning on driving somewhere, why not take a package along and make a little extra cash?
Founded in 2008, CitizenShipper has grown organically into a unique marketplace where drivers planning on making a trip can bid on thousands of online shipments. Payments for completed shipments range from as low as $20 for local package delivery jobs, to as much as $5,000 for heavy equipment and difficult to move items.
"It's a site that empowers people to generate wealth doing something they'd be doing anyway." Says founder and CEO Richard Obousy. "Folks tell us where they plan to drive, and we connect them with delivery jobs along those routes."
CitizenShipper doesn't limit it's items to packages or small items. "Pet transport is really popular right now." Says Obousy. "We let pet owners cultivate a relationship with pet movers they find on the site. It makes people feel good to meet the person who's going to take care of their pet for a long trip, and helps build trust." CitizenShipper.com allows customers to view a range of driver profiles, all with a feedback score, and pictures of the driver and their vehicle.
While many of the drivers registered on the site are truly "citizen" shippers, a large fraction of them are professionals and bonded shipping companies looking for additional work. Obousy says the site's use has been growing rapidly since its launch, and now has over 30,000 members. "It's a great place to come and find driving jobs." Continues Obousy. "Because there's such a wide variety of loads, there's something for just about everyone. Be it local package delivery, long distance freight hauls, furniture shipping, or pet transport."
One other beautiful spin-off of this idea is the "green" angle. "If you are going somewhere anyway, and you make a delivery for someone, you take the dedicated transportation vehicle out of the equation." Explains Obousy. "This has the effect of reducing our nations net carbon emissions so is good for the environment too."
About CitizenShipper.
CitizenShipper is a trendsetter in the peer to peer marketplace. Founded in 2008 and Headquartered in Denver, Colorado the company matches drivers with shipments through an online reverse auction style marketplace.
To register as a driver, or to ship any an item to anywhere in the country, visit http://www.citizenshipper.com.