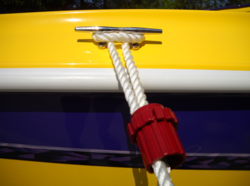 Securing items with rope has never been easier
Brentwood, TN (PRWEB) August 11, 2012
Made for the boater who's tired of tying and untying knots when securing their boat or PWC to the dock, the Super Rope Cinch eliminates the need to tie and untie knots. Specifically, the dreaded cleat hitch knot that many boaters have trouble tying when securing their vessel to the dock.
The patented Super Rope Cinch device splashed onto the scene in June of 2011, and has created the perfect storm in retail ever since. Boaters love the Super Rope Cinch because they typically use rope to secure boats and personal watercraft to a dock, not to mention tying items down when their boat is in use. The Super Rope Cinch makes it easy for most anyone to tie and untie rope without using a knot thanks to its simple design and ease of use.
Using nothing more than a simple twist, the Super Rope Cinch locks together any combination of ropes from 1/8" to 5/8" in diameter. It even secures multiple ropes, making it easy to create nets and webs made of rope, all without tying a single knot. Untying rope is as easy as pressing the release button. The Cinch untwists and the ropes slide out. Maybe the most appealing fact is the super low price of under $5 dollars. Some online retailers sell it for under $3 dollars when purchased in quantities of twelve or more.
Avidea tested the Super Rope Cinch by securing cargo to the roof of a car, towed a stack of wood, hung a rope swing, and tied both a boat and personal watercraft to a dock. The Super Rope Cinch performed perfectly in every test, holding the rope securely. When it was time to untie the ropes, we pressed the button and the ropes released without a hitch. This might be the simplest device we've seen in a long time, and there are literally thousands of uses outside of boating. We even let an eight year-old try the device. He was able to tie and untie the rope just as effectively as the adults did. The built-in ratcheting sound of the Super Rope Cinch lets you know the rope is being secured. Releasing the rope is as simple as pressing the unlock button. The device worked perfectly with wet rope as well, and made the hassle of untying a wet knot a thing of the past.
The Super Rope Cinch is currently available at Sears.com, HomeDepot.com, Amazon.com, Do it Best stores, Orgill stores, and more are being added weekly. Visit http://www.RopeCinch.com for a current list of retailers.