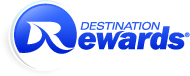 Some companies say, "We have good customer service," but in today's world, that's just not good enough.
(PRWEB) August 14, 2012
Destination Rewards®, provider of customer loyalty, incentive and engagement solutions, today revealed their top eight tips for turning customer service into your best Customer Retention Tool.
Thad Unold, Director of Customer Service for Destination Rewards, distinguishes between good customer service and world class customer service, a distinction that he says sets companies apart by setting a new standard that is more customer-centric. "Today customers expect a higher level of service. There are many different companies and products to choose from, and if they're not receiving world class customer service, they'll take their business elsewhere." Studies show that customers stay even when a company raises prices if they feel they are receiving an above average customer service experience.
World class customer service, according to Unold, can be achieved via special emphasis on connecting with the customer to better understand his/her needs. While most companies focus on what a customer service specialist can convey to the customer, Unold stresses a focus on listening to what the customer is conveying. "Whether it's by phone, email or any other form of communication, listen to the customer, understand the issue, solicit feedback, ask questions and anticipate their questions or needs."
Unold advises following these top eight tips:
1. Provide world class customer service - establish a connection with the customer.
2. Employ rock solid communication - listen actively, communicate clearly and follow up to make sure the customer is satisfied.
3. Always say Thank You - show your appreciation for customer feedback and encourage future communication.
4. Deliver a different experience for customers - create an interaction that stands out.
5. Get to know your customers - empathize with their situation and get details about what they are experiencing.
6. Solicit feedback – ask questions and try to anticipate the customer's needs. Take special note of valuable information that can be used to improve the customer experience in the future.
7. Establish a one-call resolution policy - make efficiency and effectiveness a priority.
8. Invest in your customers - go the extra mile and show appreciation by providing a thoughtful follow up.
In a world where customers can visit social media sites to air their frustrations or their "likes," Unold advises companies to seize the opportunity to turn customers into brand advocates by putting their customers at the forefront and elevating the status of their customer service from good enough to world class.
About Destination Rewards®
Destination Rewards® is the industry's most innovative provider of zero liability rewards programs, specializing in loyalty, incentive and engagement solutions. Since inception in 2001, Destination Rewards has helped some of the world's most successful brands, such as Experian, Citigroup and Humana, drive customer retention and influence behaviors at a fraction of the cost of traditional loyalty and incentive programs. They offer superior technology on a patented, customizable platform that includes a robust array of travel, merchandise, gift cards, premium local coupons, daily deals, auctions, sweepstakes, games and much more. Destination Rewards is a privately owned company headquartered in Boca Raton, Florida. For more information please visit http://www.destinationrewards.com.