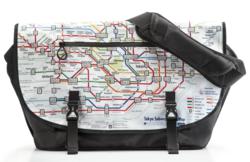 Charlotte, North Carolina (PRWEB) August 14, 2012
SLAPPA, LLC maker of professional-quality cases, bags and backpacks designed specifically for laptop computers, cameras, gaming gear and tablets announced today that it has expanded its popular line of patented M.A.S.K. products with the launch of the Custom-Build Transit Messenger. The design principal with all of the M.A.S.K. products centers on the ability to empower customers to change at any time the outer and/or inner design of the bag. With the new Transit Messenger, the flap is easily zipped onto and off of the body of the bag, resulting in easy customization at any time. SLAPPA describes this as a great solution for customers who want to customize their bags to fit their personality and as a way to avoid investing in multiple bags.
"Over the past two and a half years, SLAPPAs focus has been on giving customers the power to design bags based on their preferences and to also give customers the ability to change the look of their bag at any time," said SLAPPA Marketing Director Cris Bremner. "Our M.A.S.K. technology gives us and our customers a distinct advantage in the customization game, and it gives our customers an extraordinarily flexible series of backpacks, messenger bags and shoulder bags."
The custom-build Transit Messenger bag launched with 4 different flap designs; Tokyo Subway Map, NYC Subway Map, Classic '57 Taxi and a custom mural design done by artist PESU.
Bremner continued, "The Pesu designed flap is special in that it's a replica of the 200 s.f. mural Pesu painted in the SLAPPA headquarters last year at a 2-day live art party. The flap is an exact replica of what we see every day here in SLAPPA land."
The Transit Messenger bag is roomy, and offers a dedicated laptop compartment that easily fits laptops up to 17 inches. The laptop compartment is accessed at the back of the bag, no need to lift a flap to access your computer, and features super-cush foam protection on both sides of the compartment. The laptop is protected from outside elements and gear stored inside too.
The body is made of 1680D Nylon, that is water resistant and extremely durable under nearly all conditions. The flaps are PU coated for extra endurance.
Under the flap a roomy main compartment is 2.5 gallons in size, features a zippered mesh pocket 8"W x 5"H. Two 10"W x 10"H pockets and a zippered accessory section with even more pockets are on the found on the exterior just under the flap for added convenience. The 6 inch flat padded base design allows you to load the bag up when needed. Two self-locking buckle closures and hook n loop strips on the flap provide added security on the flap. . The custom-build Transit Messenger Bag and flaps are now available for pre-order on http://www.SLAPPA.com.
ABOUT SLAPPA
Established in 2002, SLAPPA Distribution, LLC engineers, manufactures and distributes innovative products, offering the highest quality backpacks, laptop bags, sleeves and specialty cases for CD and DVD collectors, DJ's, Pro Audio users, Gamers and photographers. SLAPPA has earned a reputation for offering dependable, quality products with unparalleled performance. The company has been recognized for its excellence by leading consumer publications and sites, both in the U.S. and abroad. SLAPPA products are currently available in 14 countries around the world. SLAPPA, LLC continues to actively expand its domestic and international presence with new and innovative products.
SLAPPA is also dedicated to providing professional and amateur gamers with bags and accessories that provide extreme protection for gear while in transit and at tournaments. SLAPPA is proud to sponsor three world class professional Major League Gaming (MLG) teams; Evil Geniuses-EG, FNATIC and SK Gaming. In addition, SLAPPA sponsors LANs (Local Area Networks) in the U.S. and Canada supporting all gamers in their pursuit to perfect their game and grow the sport.
For more information on SLAPPA products including purchases, distribution and our affiliate program please visit http://www.slappa.com