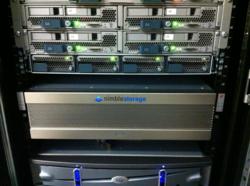 Hula Networks always strives to deliver ground breaking, value driven products to our customer base and Nimble certainly fits that model perfectly
Sunnyvale, CA (PRWEB) August 14, 2012
Hula Networks Inc. one of the top IT solution providers in North America - specializing in Enterprise, Web 2.0 and Data Center markets - announced today its partnership with Nimble Storage, the fast growing provider of flash-enabled, no-compromise storage solutions.
This partnership gives Hula Networks' customers access to Nimble Storage's patented storage product line: the CS-Series. Nimble's unique solution replaces an enterprise's expensive high-RPM drives with a hybrid architecture that combines high-performance solid-state (SSD) drives with low-cost, high-density Serial Advanced Technology Attachment (SATA) drives.
The growth of customer data along with server virtualization and consolidation has left customers with the need to increase storage capacity, increase performance, and provide easy to use data protection. Nimble Storage delivers industry-leading performance and capacity efficiency, better backups and disaster recovery, and stress-free operations.
"Hula Networks is very excited to add Nimble Storage to our product portfolio." said Steve Robinson, VP of Sales, Hula Networks. "Hula Networks always strives to deliver ground breaking, value driven products to our customer base and Nimble certainly fits that model perfectly."
The Nimble solution is available in multiple configurations scaling from 8 to 36 Terabits of Raw storage. These multiple options will allow Hula Networks to provide solutions across a large and diverse customer base. The arrays themselves are built on Nimble's Cache Accelerated Sequential Layout (CASL™) architecture. CASL's highly available, redundant controller design allows organizations to non-disruptively scale to fit their storage performance and capacity needs on a wide variety of workloads, including Exchange, SharePoint, SQL Server, VDI, and server virtualization.
Customers can learn more about Nimble Storage products and solutions through Hula Networks: http://www.hulanetworks.com, 866-HULANET
About Hula Networks
Hula Networks, Inc. helps customers increase profits, decrease expenses, and mitigate risk for the past 10 years. Hula works hard to increase it's client's productivity and revenues by addressing the gaps in their current communication infrastructure and company procedures.
Hula Networks takes great pride in introducing the right technology to their clients while factoring their specific environmental needs and budgetary restraints into the equation. Hula focuses on designing, installing and supporting the network infrastructure that is best for it's customers needs as opposed to what is best for our original equipment manufacturer partners.
Hula's goal is to deploy elegantly simple solutions that their customers can realistically maintain with their own in-house IT staff. Hula Networks has both the technical knowledge and resources to design, source, configure, implement, and support all of our clients IT needs.