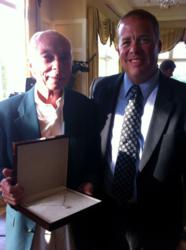 "Tournament sponsorship is a great way to get your name in front of a captive audience," notes John Turrentine, President of Thomas S. Fox Diamond Jewelers
Reno, NV (PRWEB) August 13, 2012
This year during the Cascade Hills Country Club's Crystal Invitational, Richard Ross of Grand Rapids, Michigan won a $35,000 diamond necklace, courtesy of Thomas S. Fox Diamond Jewelers, and paid for by Hole in One International, the nation's leading provider of hole in one insurance.
Ross won the 18k white gold diamond necklace, which features a stunning 4.01-carat pear shaped diamond, after he aced the 150-yard Hole 11 using a hybrid club. It was Ross' fifth hole in one.
According to John Turrentine, President of Thomas S. Fox Diamond Jewelers, who sponsored the hole in one prize, "We have been using Hole In One International for about seven years now to assist us in the sponsorship of this tournament and have loved doing it. It brings so much excitement to the event, especially for the wives at the cocktail parties. This is the first time that anyone has gotten a hole in one. We have had several close calls, but this was very exciting. It made the rounds through the event field very quickly, and the store received more publicity than I could have imagined. The golf market is the jewelry market and tournament sponsorship is a great way to get your name in front of a captive audience - this is a venue idea that jewelers should take advantage of. Hole in One International is a wonderful partner to have for our event and I will continue to use them in the future – they made the process very easy, and were truly happy for the success of the event."
According to Mark Gilmartin, President and CEO of Hole In One International, "Most people expect cars and cash as hole in one prizes. But jewelry, in particular gold and diamond jewelry, also makes for a great reward for a remarkable shot. And, because we can insure anything up to $1,000,000, sponsors can get very creative. For example, last season we paid for an ounce of gold after a Montana golfer made a hole in one."
Hole In One International's affordable hole in one coverage starts from $150 and is based on the total cash value of the prize being offered, the number of participants in the tournament and the length of the hole that's being insured. Packages include complimentary auxiliary prizes for all non-target par threes, complimentary tee markers and customized target-hole contest signs, as well as a package of free golf club coupons, courtesy of FreeTeePrize.com, which sponsors or tournament directors can use as complimentary tee prizes.
Founded in 1991 and headquartered in Reno, Nev., Hole In One International is a full service golf tournament promotions company offering hole in one insurance, million dollar shoot-out insurance, putting contest insurance, rain out insurance, and contest and sponsor signs for over 18,000 plus company, charity and golf course tournaments annually. Hole In One International has paid out over $40,000,000 in cash and prizes to contest and promotion winners worldwide. To add excitement to your company, charity or golf course tournament with attention-grabbing prizes, paid for by Hole In One International, call 1-800-827-2249 for a free instant hole in one insurance quote or visit http://www.holeinoneinternational.com.