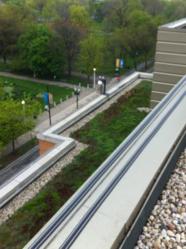 The Bird-Shock system proved to be effective in moving the bird population.
Carson, CA (PRWEB) August 12, 2012
The school's architecture offers hundreds of feet of ledges that attracted the pigeons on a regular basis. Day after day, the school's many windows were befouled with bird droppings requiring the maintenance staff to clean them daily. Faced with perpetual cleanup, the school eventually called their regular pest control company to address the problem.
In addition to standard pest control, this company provides bird control for their customers. They determined that Bird Barrier's Bird-Shock® Flex-Track® was the best solution for deterring the pigeons from the building's ledges.
Bird-Shock Flex-Track is a low-profile ledge deterrent system that is effective against all species of pest birds utilizing the principle of fear and flight, conditioning birds to stay away without harming them. Because this bird control product is low-profile, it is often selected to protect structures where aesthetics are important.
The pest control company installed 500 feet of Bird-Shock Flex-Track in two rows on the lower ledges of the school. The Bird-Shock system proved to be effective in moving the bird population. Unfortunately, they didn't move far. Over the next two years, the upper ledges gradually became their new roosting area. Once again, the pest control company was contacted to propose a solution. The second installation included an additional 800 feet of Bird-Shock Flex-Track on the unprotected ledges.
The city was so pleased with the results that they hired the pest control company to install a bird control system on another school in the area.
Bird Barrier is America's leading manufacturer and supplier of pest bird control products, specializing in urban bird control to remove pest birds humanely and effectively. Homeowners, boat owners, building owners/managers and professional installers rely on Bird Barrier® for the highest quality bird control to solve their bird problems.