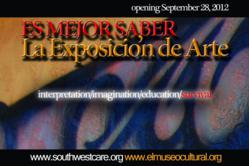 (PRWEB) August 10, 2012
Southwest Care Center, the Santa Fe, New Mexico, community treatment center for people living with HIV/Aids, announces the opening of a new art exhibition and sale based on the popular and award-winning, bi-lingual disease prevention campaign, Es Mejor Saber – It's Better to Know. The opening for the event is scheduled September 28th, 2012 from 5:00 pm to 7:30 pm at El Museo Cultural, 555 Camino de la Familia in Santa Fe's Rail Yard. The event and the organization are featured on Santa Fe, New Mexico on-line visitor guide SantaFe.com.
Hispanic artists throughout New Mexico, many affiliated with the Spanish Market, will be displaying and selling art pieces based on their interpretation of the campaign's logo and theme. Art work will be judged and awards will be given in the following categories: Lo Mejor – Best of Show, Best Interpretation, Best Imagination and Best Educational pieces. Twenty percent of sales will go to Southwest Care Center for the rapid HIV and Hepatitis-C counseling, testing and referral program.
Nationally acclaimed author Jimmy Santiago Baca will be reading from his work at the opening. Nacha Mendez will provide musical entertainment. Hors d'oeuvres will be served and a cash bar will be available. La Exposición coincides with National Hispanic Heritage month and will end on the day prior to National Latino AIDS Awareness Day., October 14. The opening will also be a part of the Rail Yard's Friday Art Walk which is held the last Friday of each month from 5 – 7 pm and features ten galleries in the Rail Yard District
Participating artists include: Arthur Lopez. The campaign, which won a Pinon Award from the Santa Fe Community Foundation in 2011 for creative innovation, was designed by Southwest Care Center's Community Outreach Coordinator, Fernando Casados in an effort to reach the Hispanic community with the message of free, anonymous rapid HIV testing provided by Southwest Care Center. It's Better to Know refers to one's HIV status and the belief that knowledge is power. The campaign, now in its third year, also promotes the recent addition of free rapid Hepatitis C testing provided by the Center.
The logo, consisting of a winged heart with a banner proclaiming Es Mejor Saber, has been reproduced as two murals during events coinciding with National Latino AIDS Awareness Day in Santa Fe. The murals can be seen on the former Cloud Cliff Bakery at the corners of 2nd and Lena Streets and the other on the west facing exterior wall of El Museo Cultural in the Rail Yard.
About Southwest Care Center:
Southwest Care Center was founded in 1996 by Medical Director, Trevor Hawkins, MD to provide comprehensive treatment for people living with HIV/AIDS in our community. Over the years the Center has expanded to incorporate eight free standing HIV/AIDS agencies, thereby cutting down on administrative overhead and allowing the Center to continue the good work of treatment, case management services, research, pharmacy, and prevention and education for HIV positive individuals in New Mexico. Now serving over 600 people living with HIV/AIDS, and Hepatitis C, the Center continues to be a nation-wide model of excellence in care in the field of HIV/AIDS. For further information please contact Stella Reed at 505-989-8200 x 1027 or visit http://www.southwestcare.org. Find us on Facebook and Twitter!
Contact Information:
Southwest Care Center
Stella Reed – Director of Community Outreach
http://www.southwestcare.org
649 Harkle Road, Suite E
Santa Fe, NM 87505
Sreed at southwestcare dot org
About SantaFe.com:
SantaFe.com provides locals and visitors to Santa Fe alike the most current interactive platform for events, music, arts, business, dining and lifestyle. SantaFe.com is a division of Hutton Broadcasting, located at 2502 C. Camino Entrada, Santa Fe, NM 87507
Contact Information:
Scott Hutton
SantaFe.com / Hutton Broadcasting
http://www.santafe.com
(505) 471-1067 (Media inquiries only, please)