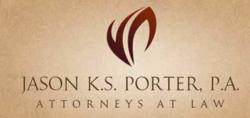 Jacksonville, Florida (PRWEB) August 10, 2012
Jason K.S. Porter has achieved an AV® Preeminent™ rating with Martindale-Hubbell®. This rating is a reflection of Mr. Porter's legal professionalism and his reputation in the legal community. According to Martindale-Hubbell®, this rating is evidence of Mr. Porter's high, general ethical standards and competence in the legal field. This recognition is objectively drawn from feedback provided by other members of the bar and judiciary in the United States and Canada. More specifically, the rating reflects Mr. Porter's legal knowledge, analytical capabilities, judgment, ability to communicate clearly and his professional experience. There are three levels of distinction in the Martindale-Hubbell® system, and Mr. Porter has achieved the highest. This is a significant legal achievement and Mr. Porter is proud of his reputation as an exemplary legal advocate.
Mr. Porter earned his undergraduate degree from Hampden-Sydney College in Virginia with a B.A.s in Political Science and Spanish. He was recognized for his academic achievements and graduation cum laude. After graduation, he pursued a law degree at Wake Forest University School of Law in North Carolina. As a law student, Mr. Porter continued to earn a reputation for academic excellence and participated in Moot Court – a competitive program designed to teach law students the ins and outs of legal arguments and persuasion. Mr. Porter was a Stanley Moot court competition finalist.
After graduation, Mr. Porter became an Assistant State Attorney in Florida for Duval, Clay and Nassau counties. Over the next two years, he prosecuted a variety of criminal cases – including DUI. Today, Mr. Porter uses his understanding of DUI prosecution to the advantage of his clients to help people who have been accused of driving under the influence of alcohol or drugs. Today, he practice DUI defense, representing individuals charged with misdemeanor and felony DUI. He is well-versed in professional license cases, injury-related DUIs, drugged driving, vehicular manslaughter cases, out of state DUI, plea bargains and expungments. Additionally, he is also familiar with underage DUI cases, sobriety checkpoints, sentencing and DUI penalties.
According to the Martindale-Hubbell® Mr. Porter's demonstrates a combination of his ethical standards and legal accomplishments. Today, Mr. Porter continues to help people accused of drunk or drugged driving stay out of jail. He is well regarded among his legal peers and devoted to maintaining a reputation of success and professional excellence. In Jacksonville, http://www.JacksonvilleDUIDefenseLawFirm.com, he will continue to serve clients to the best of his ability by fighting for their rights and freedom in the courtroom.