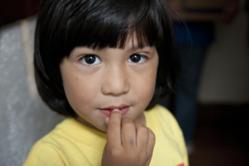 Los Angeles, California (PRWEB) August 11, 2012
Los Angeles, California – No More Poverty (nmp.org), and its co-founders Michael Omidi and Julian Omidi, are pleased to support Children's Hunger Fund and its global programs and outreach. Children's Hunger Fund has delivered hope to needy children and families for more than 20 years through well-run programs that deliver Food Paks, educate, provide medical care, and respond to emergency needs.
"I respect Children's Hunger Fund, not just for its compassionate aid, but because it's an exceptionally well-managed organization where 99% of all donations have gone to feed, educate, and care for people," says No More Poverty co-founder Julian Omidi. "They do extraordinary work. And they do it very, very well. My brother and I are happy to support Children's Hunger Fund."
Since 1991, Children's Hunger Fund has distributed 1 billion dollars in food and resources to serve the needs of more than 10 million children in the United States and 72 countries around the world. Because hunger is a complex issue, it uses a unique in-home delivery method directly to the homes of poor children and family. Additionally, the organization runs many on-going programs that benefit needy individuals and disadvantaged communities – programs include schools, medical clinics, emergency relief, and clean water. Children's Hunger Fund is a Christian 501(c)3 non-profit organization.
No More Poverty (nmp.org) is a not-for-profit charity organization (with a pending 501c3 application) founded by brothers Michael Omidi, M.D. and Julian Omidi. The organization seeks to end poverty at home and abroad by supporting the efforts of like-minded charities and agencies. Current efforts are focused on increasing awareness of and donations to charities already doing great work to address poverty and its staggering effects throughout the world. The plan is to soon expand our activities to include fostering business development and job creation in disenfranchised areas.
Join us in the fight for No More Poverty. Suggestions for worthy partners in the fight for No More Poverty are welcome. No More Poverty does not accept monetary support, but instead encourages direct donations to the charities featured on nmp.org. For more information, please visit Facebook/nmp.org or nmp.org.