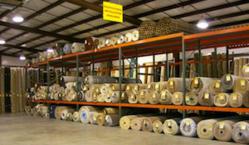 "With an array of color options and patterns of carpet tiles in stock, we are dedicated to aiding customers in reflecting their style throughout their home or office."
Atlanta, Georgia (PRWEB) August 14, 2012
Carpet Tile Warehouse has announced the next step in their business venture, to relocate all operations into the heart of Cumming, Georgia. While remaining in the same vicinity as the previous brick and mortar, the new location allows for additional space and expansion of the business. Overall, the consumer will benefit from the opportunity to view flooring options first-hand.
Please make note of the new address:
5750 GA Highway 400 N
Cumming, GA 30028
*All phone numbers and email addresses will remain the same.
"We are excited to share the opportunity to provide cost effective flooring options to the masses with the milestone of relocating to a larger 24,000 square foot warehouse" says owner and CEO of Carpet Tile Warehouse, Brad Flack. "With an array of color options and patterns of carpet tiles in stock, we are dedicated to aiding customers in reflecting their style throughout their home or office."
Carpet Tile Warehouse has been operating in conjunction with Flack's Flooring, formally known as Carpet Depot, since 1993. Flack's Flooring is a full service flooring company providing low pricing carpet tile flooring to both residential and commercial customers with a 100% satisfaction guarantee.
Brad Flack had this to say regarding the move of Carpet Tile Warehouse, "The move gives us the space to necessitate further expansion and bring additional inventory to the Atlanta market. It is a positive signal that we are continuing to grow."
To learn more about the relocation and your flooring options, contact Brad Flack at 404.391.8150 or email brad(at)carpettilewarehouse(dot)com, or visit the website at http://www.carpettilewarehouse.com.