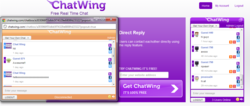 Seattle, WA (PRWEB) August 11, 2012
Since social media is now considered as one of the best communication mediums of today, the Chatwing development team has launched a universal chat widget integrated with this option. The Chatwing chat tool has been introduced in several blogging communities such as Wordpress, Livejournal, and Typepad. In the new version of the Chatwing app, users can now log in with their Facebook or Twitter accounts; visitors don't need to register. According to many users, the social media login is better compared to the Guest option. The Guest option, on the other hand, remains useful because of the anonymity it can offer and the emoticons that are readily available.
With a Facebook log in method, the user will now have the opportunity to expand his social network. Users who log in with their Facebook accounts will have their profile names appear in the Chatwing chatbox. In this way, users can send out Facebook invitations to each other. This is also the reason why Facebook group makers have been using Chatwing's free shout box lately. For them, Chatwing is a handy recruitment and communication tool that can be used at any point of time. The Twitter log in option also allows users to have more followers in their accounts. In coming months, the Chatwing dev team is planning to add more social media login options; this calls for a higher rate of flexibility which everyone can enjoy.
The Chatwing free chat box is primarily built for blogging purposes, but it has been useful in other areas as well. Once installed in a blog or website, a Chatwing chatroom has the potential to increase its visibility by more than 50%. Chatwing's developers are also aware that the percentage changes, depending on the content and activity of a blog or website. During the early months of Chatwing's operation, the company has almost struggled in gathering online popularity. Today, thousands of people are signing up, coming from social networking sites, blogging communities, and even forums.
Aside from expanding in social networking sites, the Chatwing team is planning to introduce the free chatbox in different online sectors as well. This strategic expansion is considered a long-shot project, and will be accomplished in a stretch of more than three months. During this expansion, Chatwing's developers will continue tweaking the chat platform so that it will deliver 100% efficient communication service for everyone. Platform tweaks are also necessary to ensure that the chatbox will remain as stable as possible.
About Chatwing.com
Chatwing.com specializes in the new field of website chat. Over years, the Chatwing team has introduced live chat box for hundreds and thousands of blogs. The Chatwing application bridges people from many parts of the world, creating global synergy through the Internet. The shout box can be installed in just seconds, and it can be used for varying purposes such as leisure and Internet marketing. It also allows a user to customize the size, color, and name of the widget. Chatwing is 100% free for everyone.