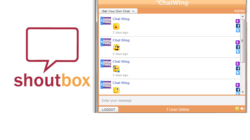 Miami, FL (PRWEB) August 12, 2012
Webnode, one of the most dynamic blogging sites known today, can now be reached by the Chatwing development team. Chatwing, a company specializing in website communication, has recently launched a chat widget that can be utilized by Webnode users. This chat app can bring streams of online visibility for any blog or website, and can also help a blogger interact with his site visitors. Social media is also a major part of the Chatwing application, allowing people to widen their social reach greatly. The Chatwing application is known for its versatility in over hundreds and thousands of websites across the Internet.
Bloggers, especially those who are tackling different niches, would benefit from a free chat box that has the capability to reach thousands of people. In a nutshell, a blogging niche has thousands of subscribers, and a lot more bloggers are trying to gain a prominent online ranking. Chatwing's free chat application can be used by Webnode users when it comes to generating visibility. Other than that, the Chatwing chatbox can empower interaction between a blogger and a visitor. Chatwing's developers have also noted that the average installation time of the chatbox takes only twenty seconds. The time frame goes even lower if the preferences of the user are not complicated. Also, the recent version of the Chatwing chat tool has a direct link feature that can be used for centralized group chat. Chatwing also offers full conversation control to any user; now, the user can delete messages in real-time and even ban visitors that are using profane language.
Chatwing's free shout box has also received thousands of signups from prominent blogging sites, especially Wordpress and Typepad. Niche bloggers have also used the Chatwing application to create synergy between them and their visitors. This synergy extends up to social media, strengthening friendships all around the world. Event streaming websites in Webnode can also use the Chatwing application to help spark discussions about certain events, films, or TV series. Other bloggers have used the Chatwing tool to discuss their hobbies, crafts, and interests.
This August, the Chatwing team is planning to reach out to other online sectors by making the free chat widget more visible than ever. Chatwing's developers believe that this can be done by proper research, observation, and inquiry. Moreover, tweaking the shoutbox is also necessary to ensure that technical glitches are always prevented. Recently, the Chatwing team is maintaining a Facebook page loaded with interesting and informational content.
About Chatwing.com
Chatwing.com specializes in the new field of website chat. Over years, the Chatwing team has introduced live chat box for hundreds and thousands of blogs. The Chatwing application bridges people from many parts of the world, creating global synergy through the Internet. The shout box can be installed in just seconds, and it can be used for varying purposes such as leisure and Internet marketing. It also allows a user to customize the size, color, and name of the widget. Chatwing is 100% free for everyone.