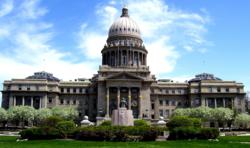 Boise, Idaho (PRWEB) August 13, 2012
Boise, Idaho is widely known as a "small" urban center surrounded by rivers and mountains. Commonly referred to as "The City of Trees" Boise has not typically been top of mind as a retiree destination, but word is getting out that Boise is, among other things, becoming quite popular as a serene place to live.
Boise city has joined Nevada, Arizona and Florida as one of the top spots in the nation for greatest increases in retirees in the past decade. The West region of the U.S. had the greatest inflow of 65 and older, while many retirees left the Midwest and East regions. CNN Money recently listed Boise as the #3 retirement spot in the country.
Boise is poised to benefit from the inflow because the 65 and older population growth brings increases in demand for real estate and other services. This has made Boise real estate and homes more valuable and competitive. Many houses on the market are getting multiple full price offers. Not only are there more people to sell to now, numbers are on the rise. The Baby Boomer generation is soaring at a population rate of almost double the national total population as shown in the 2010 census. The New York Times predicts the number of senior citizens will continue to rise to historic heights as more Boomers turn 65. Boise's great growth is even more amazing when taken into account how many Americans 65 and older are continuing to stay put and work, or unable to afford moving. The number of 65 and older citizens migrating had been on the decline, even before the economy dropped. The most mobile senior group, those aged between 55 to 64, saw a Boise area increase of a staggering 92%.
Given the dramatic increase in relocating retirees, it is surprising how few Boise residents know about the changes. Boise Realtors however, have seen this become the new norm among homebuyers. After talking with multiple Realtors, they agreed that many of their out-of-state home buyers are retirees. Previously, most out-of-state residents were younger people moving because of job opportunities. Many senior housing neighborhoods and assisted-living communities have sprung up throughout the Boise Area to meet the needs of all of the new Idaho residents. Additionally, within the past two years large new hospitals have been opened in Nampa, Meridian, and Eagle. Boise has been quietly evolving to provide necessary services for its changing demographics.
There are a variety of reasons why so many 65 and older people are moving to the Gem State. Most often, senior citizens move to be closer to family. Idaho also boasts a high quality of life highlighted by a climate with four, moderate seasons. For a more detailed study of reasons for in-migration of Idaho retirees, click here. As Boise's popularity increases, look for more out-of-state Americans to see it as an attractive location to retire. It will be noteworthy to see how it changes Idaho going forward.
The BuyIdahoRealEstate.com team of Silvercreek Realty Group is a professional team of Idaho real estate agents based in Meridian Idaho and serves Boise, Meridian, Eagle, Nampa, Kuna and surrounding areas. (Office: 208.377.0422)