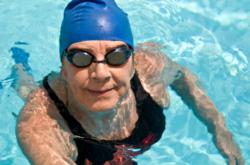 An end-of-summer vacation doesn't have to be extravagant.
Neenah, Wis. (PRWEB) August 15, 2012
In regions where temperatures start to cool in late August or early September, it's a safer, more comfortable time for seniors to enjoy outdoor recreation and travel, says Lynn Wilson, Founder of The CareGiver Partnership, a national retailer of incontinence products and other home healthcare supplies.
"An end-of-summer vacation doesn't have to be extravagant," says Wilson. "From simple day trips to a weekend away, it's a great time for families to get together as back-to-school season nears."
Wilson offers five ideas for end-of-summer fun:

Day trips to local attractions, such as a farmer's market, flea market, park, zoo or botanical gardens. Travel can be easier and more comfortable with a CarCaddie, Rollator or cane, and other daily living and mobility tools.
Swimming. Because the elderly are more prone to heat stress, it can be a safer time to enjoy the sun and water. For seniors managing incontinence, the SoSecure swim brief protects against urinary and bowel incontinence but can be discreetly worn under swimwear.
Volunteering can be rewarding and raise a senior's self-esteem. Teaching a skill or reading at a senior center, helping to beautify parks or neighborhoods, spending time with adoptable pets at a humane society, or visiting others at a hospital or nursing home all are ways to get involved.
Apple picking, depending on the region, can start in late August or September and run through late October. Some places have stores, cafes and rest areas for those who prefer eating treats over harvesting.
Resort areas. Convention and visitors bureau Web sites contain information on nearby resort towns and other weekend getaway ideas, and many offer discounted rates after Labor Day.
For more ideas and helpful information on senior travel, visit The CareGiver Partnership blog.
The CareGiver Partnership is a national direct-to-consumer retailer of home healthcare products for incontinence, skin care, mobility, daily living aids, nutrition support and more. In its sixth year of providing products and services that help caregivers and loved ones maintain personal dignity, the company also offers an online library of more than 1,200 family caregiver resources and personal service by experts in caregiving. Call 1-800-985-1353 or visit our Web site.