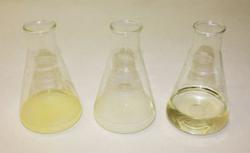 Our distributors and customers can confidently purchase our products knowing that they are 100% authentic and pure emu oil.
Nashville, TN (PRWEB) August 12, 2012
LB Processors, a leading manufacturer of pure emu oil, is reaffirming that all of its products bear the AEA's "Certified Fully Refined" seal, confirming the oil's authenticity.
"Without the label, customers cannot confirm the authenticity of their emu oil," said Paul Binford, the founder of LB Processors. "This is why all of our emu oil comes with the AEA's quality seal of approval. Our distributors and customers can confidently purchase our products knowing that they are 100% authentic and pure emu oil."
Binford's announcement follows new findings that question the authenticity of some emu oil manufacturers. New research presented at the AEA National Convention in Kansas City, Missouri on July 12-15 found that a number of products currently labeled for sale as "pure emu oil" are, in fact, inferior oils.
The AEA evaluated 11 different samples of products labeled for sale as emu oil. According to researchers, emu oil has very unique fingerprint that can be identified by the fatty acid profile. The researchers tested the oils' fingerprints, determining that more than half the products tested were not pure emu oil.
In response to these findings, the AEA is issuing new stringent guidelines for trade rules and certification. The certification seal confirms that a product's fingerprint is consistent with the AEA emu oil profile. LB Processors' emu oil meets these guidelines and continues to be fully certified by the AEA.
Binford, who attended the July Kansas City conference on behalf of LB Processors, supports the AEA's certification program. Binford says certification also reassures customers that they will be able to take full advantage of the benefits of emu oil. Research shows that possible benefits from emu oil use include inflammation relief for patients sore joints, sprains, or bruises. There are also several beauty and cosmetic applications of emu oil which promote smooth and blemish free skin.
"In order for customers to enjoy emu oil's important benefits, the oil they use must be pure and authentic," said Binford. "Customers should not be misled about the oil's origin or ingredients."
LB Processors, LLC is the world's leading producer of quality emu oil. Since the company's founding in 1992, LB Processors has been an industry leader in establishing best practice and creating new products.
Emu oil is renowned for its anti-inflammatory properties and moisturizing benefits. It is used to promote smooth skin to reduce wrinkles, moisturize dry skin, and promote a youthful appearance. It is non-comedogenic, meaning it does not clog pores which makes it useful for piercing and tattoo aftercare as well. To learn more about emu oil produced by LB Processors, you can visit their online store at lbemuoil.com.