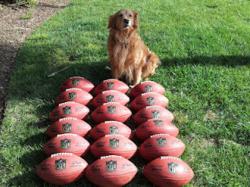 "In the NFL it's called Training Camp. College football calls it Fall Camp. And High School football calls it 2-A-Days. But no matter what it's called, for players and coaches alike, it can be tough mentally and physically. Michael Husted
San Diego, CA (PRWEB) August 12, 2012
Retired NFL Kicker Michael Husted has posted 'pre-season' workout advice to prepare football kicking specialists for the 'Dog Days of Summer'.
Husted, who kicked in the NFL for 9 years and is currently an active kicking coach, says now is the time for kicking specialists to start training for the upcoming football season.
"In the NFL it's called Training Camp. College football calls it Fall Camp. And High School football calls it 2-A-Days," says Husted. "But no matter what it's called, for players and coaches alike, it can be tough mentally and physically. Even for us kickers, punters and long snappers."
Husted says it's key that kicking specialists be realistic about what's ahead of them.
"I think that many specialists under estimate the toll that kicking has on their bodies during the pre-season," says Husted. Therefore, it is vital that they manage themselves well to ensure progress on the field and to stay healthy."
"As specialists, we want to start kicking great right away," Husted says. "We feel that we have to kick a lot every practice to achieve this goal. The problem is that if we have two practices a day, we end up kicking many footballs. This is where tweaks, injuries, bad habits, etc. can occur. This is especially the case if we are battling for the starting job."
Husted says this also applies to punters and snappers.
In his 'Dog Days of Summer' post, Husted offers kicking specialists advice ranging from stretching to kicking reps to ice baths.
"Ice baths were part of my routine after every practice," says Husted. "Getting the water temperature around 55 degrees will be great for your muscles. It's easy to get your toes, feet, and knees in the tub, but to get the rest of your body, up to your waist, is not fun."
Husted advice comes from someone who has years of 'on the job' experience.
Husted's consistency on field goals and power on kick offs won him the job as an undrafted rookie and he then went on to have a successful rookie season where he was named to Football Digest's All Rookie team.
During his time with the Tampa Bay Bucs, Husted established several records including:
•All-time leading scorer (502 pts.)
•Longest field goal (57 yards)
•Most 50+ field goals (10)
Although he has retired from playing Pro football, Husted has not strayed far from the game.
Along with being an active kicking coach in San Diego who works with all levels of kicking specialists, Husted also founded the National Camp Series and is partners with Louie Aguiar in the Aguiar / Husted Pro Camp Series.
Go here for more on kicking coach Michael Husted's 'pre-season' training advice.
Go here for more information about kicking coach Michael Husted.