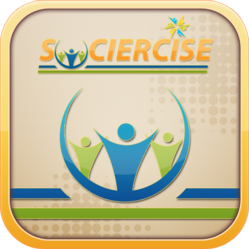 Citing the boredom of treadmill running as inspiration, the duo developed the app to motivate indoor runners using a little friendly competition.
Sautee Nacoochee, GA (PRWEB) August 16, 2012
A new app that's ready to launch, is taking aim at the crowded running gadget industry and filling a niche in a revolutionary way. The Sociercise app, utilizing smartphone technology, is poised to redefine racing and best their competitor's run tracking programs.
The Sociercise app for iPhone, has a host of appealing features for technologically inclined runners and social butterflies alike. An innovative feature enables users to race against anyone, anywhere, at anytime. Runners can compete in real time against another user in a remote location, even on a treadmill. Additionally, runners can race a celebrity, sports figure, or against their own stored workouts. With real time feedback during the race, gone are the days of lonely, boring jogs on the treadmill. Instead, runners utilize the motivating power of competition to propel them through each workout. Sociercise turns your iPhone into a training device to monitor speed and distance, eliminating the need for a pricey GPS watch. In addition, using the iPhone's accelerometer, speed and distance can even be measured and recorded while on the treadmill. Runs are automatically tracked and stored, and the results can be shared instantly via social media. The app enables users to set goals and track their progress as well. The Sociercise app replaces GPS watches, manual workout tracking programs, expands the definition of "training partner", and turns every day into "race day".
There is no other APP like Sociercise, and that is what developers Tom Vinkler and Bobby Valentine are banking on. Citing the boredom of treadmill running as inspiration, the duo developed the app to motivate indoor runners using a little friendly competition. From there, the app blossomed into a full service racing, and tracking device. In the near future, Sociercise will expand into the charity racing market as well – allowing non-profits to set up satellite events, and users to raise donations directly via social media. Tom and Bobby see this as a great opportunity for runners to give back, and for charity organizations to save money on race overhead costs. Given the design of Sociercise, and it's ability to bring runners together across town and time zone, it is apropos that the creators have yet to meet in person. The pair has raced each other live, however, with Tom in Hungary, and Bobby in North Georgia. The team is an example of the way we do business and relate in the 21st century, and they are striving to change how runners relate and train too. For more information visit http://www.sociercise.com.
# # #