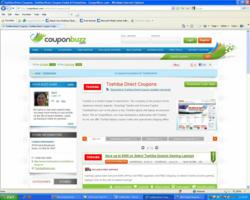 I am always amazed when a laptop can be purchased for less than $500 bucks.
Houston, TX (PRWEB) August 12, 2012
A new Toshiba coupon is attracting the attention of consumers for whom high performance multimedia gadgets and technology are an essential way of life. The coupon for $30 dollars of the Satellite L840 laptop was ranked today by CouponBuzz.com at the top of their web page specifically for Toshiba special offers, sales, and coupon codes. Originally priced to retail at $599.99, the Satellite L840 laptop is already part of a special sale featuring $120 dollars in instant rebates. The Toshiba coupon code that made top rankings today on CouponBuzz.com today takes an additional $30 dollars off that price, lowering the final price for the brand-new laptop to an astonishing $449.99.
"I am always amazed when a laptop can be purchased for less than $500 bucks," said Justin Bowen, founder of CouponBuzz.com. "I'm old enough to remember the sky-high prices the very first laptops retailed for. The incredible progress technology has made is evident in the current generation of laptops that can be sold for so little. The Toshiba Satellite L840 can perform almost every desired task to a standard of excellence that will more than satisfy a discriminating consumer. And today our Buzz Guides have highlighted a Toshiba coupon code that will save them $30 bucks more off the already inspiringly low cost."
Buzz Guides are unique to CouponBuzz.com, individuals employed by the coupon aggregate website solely to sort through available coupons and hand-select the best coupons to post on CouponBuzz.com. In addition, after selecting a coupon to post on the page for the merchant they are the Buzz Guide for, they create a short description and/or tutorial. Then, when site visitors find a coupon they are interested in, they can read more about the product and discover the steps necessary to utilize the coupon code.
The Toshiba Satellite L840 comes with an Intel Core i3 dual-core processor, a 640G hard drive, 6G of DDR3 memory, and Intel HD 3000 integrated graphics. A 14 inch diagonal widescreen HD screen with an LED backlit display, as well as a DVD multi-drive round out the details on this powerful little laptop with an impressively little price. Full specifications and the Toshiba coupon code for $30 dollars off the in-cart price can be accessed in CouponBuzz.com's Toshiba coupon section, here http://couponbuzz.com/toshiba-direct-coupons.html.