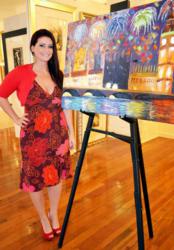 People recognize me on the street when I'm out. They say 'You're that painter from Facebook!' They even want pictures with me!
Orlando, FL (PRWEB) August 14, 2012
She isn't famous, but you wouldn't know that from the looks of her social media accounts. "I recently achieved a score of 76 on klout.com which is higher than Kobe Bryant & Nancy O'Dell," says Jessilyn Park, Owner of Jessilyn Park Art Studio, "I had to laugh because everyone knows Kobe! Social media has truly given me an unexpected edge in awareness, I simply want the world to know my art and social media has allowed this to happen almost overnight."
Social media allows users to connect with their target audience. Since picking up a paintbrush for the first time in December 2011, she's been sharing her passion for painting with an ever-growing network. Park shares her journey with more than 20,000 people across social media platforms and has developed a loyal following. They were there to show support and even purchase her first painting. They watched her fly to Mexico to train with world-renowned artist, Leonid Afremov.
By using social media she won a national competition to be a wine label artist for Artiste Wines and will be recognized in the September issue of Orlando Home & Leisure highlighting her rise using social media.
"I try to engage the audience and build one-on-one connections with them. I even let them name my paintings by running 'Name This Painting' contests and sending the winning entrant a signed print," Park explains. "They come up with some amazing names! It also gives me a general idea of how my paintings makes people feel. I enjoy that feedback."
Many people have been catapulted to fame because of social media. Justin Bieber was discovered on YouTube and is now an international teen pop sensation. Tila Tequila was discovered on MySpace and shortly thereafter was given her own reality show on MTV. Colbie Caillat was also discovered on MySpace and her first album, Coco, was certified 2x Platinum. Social media is here to stay and Park urges other small businesses to begin social media campaigns.
"I would definitely say that social media has played an integral part in my success, but I also think I'm a pretty awesome painter, too," Jessilyn coyly said. She uses all social media outlets and even posts timelapse painting videos to her YouTube channel. "People recognize me on the street when I'm out. They say, 'You're that painter from Facebook!' They even want pictures with me!"
Her art journey is just beginning. Follow her here: http://www.facebook.com/jessilynparkart and @jessilynpark on Twitter.