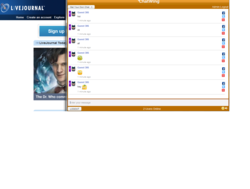 San Diego, CA (PRWEB) August 13, 2012
The Chatwing team has just recently expanded to the Livejournal blogging community with the launch of its newest chat box. This chat tool can be installed to most blogs and websites, and is built to generate online presence in the long run. The Chatwing application also utilizes the strength of social media by allowing users to log in with their social networking accounts. In this recent expansion, Chatwing aims to empower niche bloggers in Livejournal and provide a new form of communication experience that will go on for many years.
Livejournal is considered as a hub of millions of bloggers, specializing in different types of topics. Most of these bloggers do not have the proper online presence they need to stay ahead of the competition. The Chatwing team sees this as an opportunity to extend their helping hand. With Chatwing's free chat box, a blog can have an increased visibility of more than 50%. Apparently, the percentage will vary depending on the way the blogger handle his blog. The recent version of the Chatwing chatbox can also accommodate up to 1000 users in real-time, increasing the chance of a livelier discussion every now and then. Chatwing also allows users to have a form of conversation control in the chatrooms they are planning to install. Users can delete profane messages in the chatroom, and they can also ban members who are obscene.
The Chatwing dev team, few months ago, has also reached out to micro-blogging communities. Additionally, they also contacted forum owners, explaining the importance of a free shout box for blogs and websites. Also, the dev team has introduced a series of platform upgrades, increasing the overall speed of the chat application. After the introduction of these upgrades, thousands of signups have come from different areas of the Internet. A large chunk of these signups came from the Livejournal community.
Chatwing is entirely dedicated to the improvement of online communication, blogging, and web surfing. The developers believe that this feat is only possible by creating a free chat widget that is available for many people. To keep their users well-informed at all times, the Chatwing team is maintaining a Facebook page filled with useful and entertaining content.
About Chatwing.com
Chatwing.com specializes in the new field of website chat. Over years, the Chatwing team has introduced live chat widget for hundreds and thousands of blogs. The Chatwing application bridges people from many parts of the world, creating global synergy through the Internet. The shout box can be installed in just seconds, and it can be used for varying purposes such as leisure and Internet marketing. It also allows a user to customize the size, color, and name of the widget. Chatwing is 100% free for everyone.