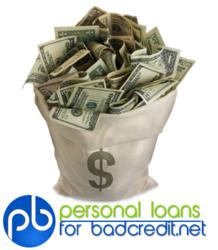 The leading online aggregator and comparison service for bad credit personal loans, announces that its new service is filling a void and helping with bad credit to find reliable, reputable and professional loan companies
Atlanta, GA (PRWEB) August 13, 2012
Traditional lending institutions are blocking access to consumer borrowing and prompting a bank lending shortage, announces PersonalLoansForBadCredit.net, as it launches alternative resources for finding fast personal loans. The website refers to a report by the University of Michigan, showing that a staggering proportion of American households are in negative net worth and struggle to meet their expenses without the aid of additional finance.
This widespread need for borrowing is inversely proportionate to the level of available finance, according to the US Federal Reserve's survey of loan officers. It reports that credit conditions within banks in the last 3 months have reached a virtual standstill, with only five domestic banks out of a total of 50 relaxing their criteria for lending. This tightening on the purse strings of major lending institutions is being attributed to the exacerbation of the Eurozone crisis and its knock-on effect on the US Dollar.
Of the foreign banks that have increased the rigor of their lending criteria in the US, all nine of them explained their moves by pointing to a weaker economic outlook. A majority of them also explained that their lower tolerance for risk was a large explanatory factor. Individuals with bad credit are considered by banks to be a "high risk" class of borrower. The more restrictive selection criteria of those institutions results in a wide cross-section of underserved consumers without finance products when their need for them is most urgent.
A spokesperson for http://www.personalloansforbadcredit.net, the leading online aggregator and comparison service for bad credit personal loans, announces that its new service is filling a void and helping with bad credit to find reliable, reputable and professional loan companies that do not consider them to be hazardous customers.
"The search for a personal loan for bad credit borrowers can be a thankless mission if one consigns the quest to banks and traditional lending bodies. The survey from the US Federal Reverse and research from the University of Michigan shows that there is a grave need for more finance options for many who are underserved and looked upon as risky by banks."
The spokesperson continued, "Lender aggregation services such as our platform work in conjunction with a raft of adverse credit personal lenders who do not look upon individuals with troubled financial histories as troublesome in the least. We want to announce the availability of our free loan quote generator service as a viable and more suitable alternative to banks for competitive lending."
Completion of a short online application leads to comparison of thousands of unsecured, adverse credit loans from trusted lending companies. Approval is followed by payout in less than 24 hours in the majority of cases.
To apply, go to: http://www.personalloansforbadcredit.net.