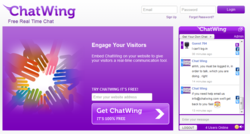 San Francisco, CA (PRWEB) August 13, 2012
The recent launch of Chatwing's free chatbox has provided online users a dependable tool to easily connect with other users globally. Online users, especially TV series followers, can use this chat application to connect with other fans and get steady updates about their favourite series from other avid viewers. Chatwing's chat box has several features that promote higher level of accessibility for many users.
TV series are becoming a trend on television and are becoming more and more interesting everyday. This is based on the numbers of avid viewers who research a lot about the series they like. A chat application like Chatwing's shoutbox comes handy during interesting discussions. Chatwing's social media integration feature offers easy access to users, allowing web surfers to join chat discussions by logging in with their existing social media accounts.
Some TV series fans have created interactive blogs across the Internet. These blogs discuss the shows in depth and the applications of the principles in the series. Embedding a chat widget in websites will promote better communication and also improve online presence. Chatwing's shoutbox is absolutely free and is compatible to thousands of blogs. Some Chatwing users have testified that it didn't take them a minute to embed it to their own site. Chatwing is also highly customizable; users can adjust the widget's size, color and title for better customization. The Chatwing tool will become live right after the embedding process.
Another useful feature of Chatwing is the direct link URL which allows a user to chat privately with another group of people. This feature lets a user form another chat group where he can discuss a topic of his choice.
The Chatwing Dev Team understands everyone's need to communicate online. With this, Chatwing developers are always committed to the betterment of the free shout box. In this way, many people will be able to utilize the Chatwing tool at a better rate.
About Chatwing.com
Chatwing specializes in the new field of website chat. Over years, the Chatwing team has introduced live chat widget for hundreds and thousands of blogs. The Chatwing application bridges people from many parts of the world, creating global synergy through the Internet. The shout box can be installed in just seconds, and it can be used for varying purposes such as leisure and Internet marketing. It also allows a user to customize the size, color, and name of the widget. Chatwing is 100% free for everyone.