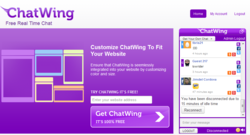 Dallas, TX (PRWEB) August 13, 2012
Financial blogging is now becoming a fast-growing trend in the Typepad community, based on the month-long research conducted by the Chatwing dev team. Chatwing, a company specialized in making handy chat applications, has recently launched a chat widget to help financial bloggers gain proper leverage in Typepad. Apparently, bloggers from other niches have also benefited from the Chatwing chat tool because of its well-rounded features. Currently, the Chatwing tool promotes social media usage, user conversation control, easy installation process, and direct link feature.
Social media integration can be considered as the 'bread and butter' of the Chatwing chatbox. This simple option has allowed thousands of users to log in with their Facebook and Twitter accounts. This has helped many users expand their social networks within a certain time. This feature has helped Typepad financial bloggers reach their target markets easily. Users who logged in with their social media accounts can now receive invitations from other people in the Chatwing chatroom. This can help the blogger interact with his blog visitors easily. It has been proven that interesting blog interaction entices visitors, affecting the rate of blog hits. Chatwing's free shout box is also compatible to most blogs and websites and the installation process takes only few seconds. Chatwing users can also add unlimited chat boxes in their account dashboards.
The most recent feature introduced by the Chatwing team is the direct link URL option. This has been planned few months ago, and the developers have done several tests to ensure the new option's stability. With this option, the user can now send out shortlinks to his friends and relatives. Once people click the links, they will now be taken to the user's free chat box. Financial bloggers can use this option to engage in personalized group chat.
Typepad is just one of the communities that Chatwing is planning to reach out. In the coming months, it is expected that the Chatwing team will introduce its free chat widget to other blogging sites, forums, message boards, and other important online sectors. For a continuous stream of information, the Chatwing team maintains a Facebook page filled with useful content.
About Chatwing.com
Chatwing.com specializes in the new field of website chat. Over years, the Chatwing team has introduced live chat box for hundreds and thousands of blogs. The Chatwing application bridges people from many parts of the world, creating global synergy through the Internet. The shout box can be installed in just seconds, and it can be used for varying purposes such as leisure and Internet marketing. It also allows a user to customize the size, color, and name of the widget. Chatwing is 100% free for everyone.