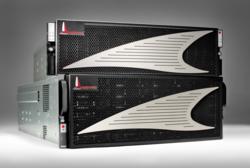 Customers can now deploy Veeam along with Starboard's SSD accelerated storage and consolidate NAS and SAN environments to transform their virtual machine deployments.
Broomfield, CO (PRWEB) August 13, 2012
Starboard Storage Systems™, the leader in hybrid storage for modern application workloads, has formed a Technology Alliance Partnership with Veeam Software, an innovative provider of backup, replication and virtualization management solutions for VMware vSphere™ and Windows Hyper-V™. The partnership will deliver a storage platform capable of consolidating modern application workloads with backup in virtual environments for virtual server and VDI deployments. Starboard Storage Systems will be exhibiting at VMworld at the Moscone Convention Center in San Francisco, on August 26- 29. Visit Starboard Storage in booth 634.
Starboard Storage and Veeam are committed to providing customers with easy-to-use, high performance, complete business continuity solutions. Together, Starboard and Veeam will deliver storage, data protection and recovery which take advantage of Starboard's SSD hybrid storage delivering up to 20 times the performance of traditional NAS and SAN systems and significantly reducing backup and recovery times across virtual environments.
The Starboard Storage AC Series™ is hybrid storage designed to provide solid state performance for active data, while keeping data at rest stored on cost-effective hard disks. The AC Series dramatically simplifies managing modern application workload environments that include unstructured, virtualized and structured data. Starboard eliminates many Small and Medium Enterprise customer pain points with its MAST™ architecture. The MAST architecture is built from the ground up and features SSD acceleration tiering and dynamic storage pooling with simplified provisioning and management through Starboard Storage Apps™.
Fully certified with VMware vSphere, Microsoft Hyper-V and Citrix XenServer, the Starboard Storage AC Series is an ideal solution for storage consolidation supporting multiple protocols, including NFS, CIFS, iSCSI and Fibre Channel, and enabling ease of management for mixed workload environments. The AC Series' capacity can be expanded on-the-fly up to 576TBs with automatic load balancing across new drives as they are added. Drive speeds and capacities can be mixed and matched within Starboard Storage AC Series.
"We are pleased to have Veeam as a Starboard Storage Technology Alliance Partner, so we can jointly provide customers leading hybrid storage with solid state performance, simplified backup and more reliable data protection in virtual environments," said Karl Chen, chief marketing officer at Starboard Storage Systems. "In today's world of rapid proliferation of unstructured and virtualized data, ensuring management simplicity, performance and data safety is of utmost importance. Veeam and Starboard Storage share this fundamental value."
As a technology alliance partner, Veeam Backup & Replication will provide Starboard's customers with enhanced data protection for virtual environments. Veeam Backup & Replication provides fast, flexible and reliable recovery of virtualized applications and data for both VMware vSphere and Microsoft Hyper-V environments. Veeam is a perfect complement to Starboard AC45 and AC72 storage systems which enable customers to speed up their backup window and data protection for virtual server and virtual client deployments.
"We are pleased to have Starboard Storage Systems as a Technology Alliance Partner verified on Veeam Backup & Replication to bring Veeam's advanced backup and recovery to customers," said Rick Hoffman, vice president of Worldwide Channels and Alliances at Veeam. "Customers can now deploy Veeam along with Starboard's SSD accelerated storage and consolidate NAS and SAN environments to transform their virtual machine deployments."
As part of the alliance, Starboard Storage Systems is now a member of the Veeam Technology Alliance Partner program and Veeam is now a member of the Starboard Technology Alliance Partner (TAP) program. Starboard Storage TAP program members participate in product compatibility testing with Starboard Storage, the creation of joint solutions and mutual customer support services ensuring a reliable comprehensive solution for customers.
For more information on Starboard Storage please contact Starboard Storage sales at sales(at)starboardstorage(dot)com or 888-734-7726.
About Starboard Storage Systems:
Starboard Storage tackles the toughest storage problem facing Small and Medium Enterprise (SME) IT administrators today — managing today's application workloads that include unstructured, virtualized and structured data. Starboard Storage AC Series delivers on the promise of sophisticated yet easy-to-manage hybrid storage for multiple application workload environments. Starboard's Dynamic Storage Pool™ and SSD Accelerator Tier™ deliver industry leading performance for less. For more information, please visit http://www.starboardstorage.com Follow @Starboardstorag on Twitter: http://twitter.com/starboardstorag.