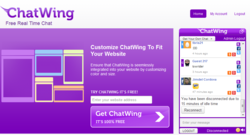 Boston, MA (PRWEB) August 14, 2012
The Chatwing dev team is now ready to help thousands of bloggers gain communication advantage all over the Internet. This has been possible with the recent launching of Chatwing's new chat box. This simple chat application is the result of numerous upgrades, developments, and unending market research. The Chatwing chat tool is now ready with social media integration; users can take advantage of powerful logging options, such as Facebook and Twitter. Now, users can chat effectively while bolstering the chance of expanding their social networks.
Social media has been a large part in many chat boxes featured in different parts of the Internet. Unfortunately, only few of these chat applications have become stable in regards to communication speed. To cope with this, the Chatwing team has tweaked the free chat box so that it will remain stable despite the tedious application task of integrating social media accounts. After a series of try-outs, the Chatwing team was able to integrate Facebook and Twitter efficiently. Because of this simple option, the Chatwing chatbox is now generating thousands of signups from the many corners of Internet. Web surfers who want to expand their networks have relied on the Chatwing chat tool to find new friends and acquaintances. In the coming months, the Chatwing team is planning to add more login options to help more people utilize the shout box properly.
The Chatwing team has always been looking forward to web progress. Every upgrade the dev team commences propels the Chatwing free shoutbox into greater visibility. This is the reason why the team is expanding in different blogging sites and message boards as well. Chatwing's developers also believe in global synergy when it comes to relaying information through different imaginable niches. The Chatwing team has also observed that entrepreneurs have been using the Chatwing shoutbox to support their Facebook and Twitter marketing campaigns. Some bloggers have remarked that Chatwing is a 'handy professional solution' that can be used by anyone.
Chatwing will always foster the improvement of web communication. This can only be done by introducing a free chat widge t that will be recognized globally and can remain stable for many months and years. To make the Chatwing tool reachable in many ways, the developers are contacting people from different websites and online sectors. Social media professionals are also now looking forward to the improvements that can be offered by the Chatwing dev team.
About Chatwing.com
Chatwing.com specializes in the new field of website chat. Over years, the Chatwing team has introduced live chat box for hundreds and thousands of blogs. The Chatwing application bridges people from many parts of the world, creating global synergy through the Internet. The shout box can be installed in just seconds, and it can be used for varying purposes such as leisure and Internet marketing. It also allows a user to customize the size, color, and name of the widget. Chatwing is 100% free for everyone.