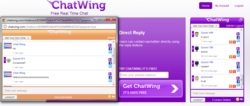 New York, NY (PRWEB) August 14, 2012
Wall.fm users and aficionados can now enjoy the website chat experience that can be offered by the Chatwing Development Team. This company is known for its simple chat widgets that can be used for multiple purposes. Chatwing is now ready to launch its latest chat widget, imbued with social media integration feature and easy accessibility options. Adding to that, the Chatwing chat app has also been used in prominent blogging communities like Wordpress, Livejournal, Typepad, and Weebly. The Chatwing tool can also be used to boost the visibility of an inactive blog or website.
Social networking site creators, like Wall.fm, is rising fast in the Internet today. This is based on the collective data gathered by Chatwing's researchers and developers. The Chatwing dev team has foreseen that communication will play a very important role in blogs and websites. To deal with this rising need for communication, Chatwing has introduced a well-rounded and free chat box; tagged as 'Chatwing Live,' this new chat application can allow users to log in with their Facebook or Twitter accounts. For social hunters, this can be an important thing. Now, people can find new friends and activity partners. Wall.fm users, on the other hand, can use the free Chatwing chatbox to make their sites more active than ever. Since the Chatwing tool is versatile, people can discuss thousands of topics, and users can interact with them.
Chatwing's expansion to Wall.fm is just a part of its multi-pronged strategic plan. It is expected that Chatwing developers will also expand to forums and message boards, allowing people gain easy communication leverage through a free shout box. The Chatwing app is also known for its easy installation mechanism; the Chatwing team has observed that users can accomplish the shoutbox installation in just twenty seconds, or less. Currently, users can select from the three forms offered by Chatwing Live. A user can select the actual shoutbox form, or the pop-up window style. The recent form is the direct link URL, allowing people to create shortlinks that can be sent to their friends. This can be used for private group chats.
Global expansion is one of Chatwing's main goals. To accomplish this goal, Chatwing developers are reaching out to people from social networking sites, blogging networks, and other online sectors. The developers are also planning to introduce more upgrades to the free chat widget, ensuring its long-term visibility. To keep users well-informed, Chatwing team maintains a Facebook page filled with interesting content on a regular basis.
About Chatwing.com
Chatwing.com specializes in the new field of website chat. Over years, the Chatwing team has introduced live chat box for hundreds and thousands of blogs. The Chatwing application bridges people from many parts of the world, creating global synergy through the Internet. The shout box can be installed in just seconds, and it can be used for varying purposes such as leisure and Internet marketing. It also allows a user to customize the size, color, and name of the widget. Chatwing is 100% free for everyone.