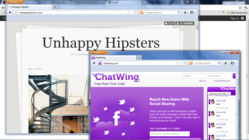 Miami, FL (PRWEB) August 14, 2012
Chatwing Development Team, a company specializing in creating useful blogging applications, has recently launched a chat widget that can help Tumblr Instagram bloggers gain online presence. This chat application has been introduced in different blogging communities, helping hundreds of niche bloggers gain a foothold in blog competition. To ensure that people will gain maximum communication experience, the recent Chatwing app has been loaded with useful features such as social media interaction, multiple shoutbox forms, degree of conversation control, and unique emoticons and avatars.
Instagram bloggers in Tumblr can now share their photos at a better rate with the help of Chatwing's free shout box. Apparently, these bloggers can also interact with their visitors all the time. Rather than wait for blog comments, Tumblr bloggers can now experience communication in real-time. Chatwing visitors can also use their social media accounts to log in, such as Facebook and Twitter. This is useful for people who want to widen their social networks. Additionally, online marketers have been using the Chatwing chatbox to support their Facebook and Twitter soft-launch campaigns. The Chatwing application can also be installed in three easy steps. The first step is quick blog domain registration. The second step is the actual customization process where the user can modify the appearance of the widget. The last step is the embedding process. All of these steps can take only up to twenty seconds, and may even be less.
Chatwing has expanded in the Tumblr community because of the foreseen growth of the Instagram application. Today, based on global data, many people are uploading Instagram photos in Facebook and various blogging sites. This flurry of activity has helped many blogs become active, yet a large percentage of bloggers are still struggling to climb the ladder of competition. The Chatwing free chat box may not be an instant solution, but it is built for long-term usage. Chatwing's developers have estimated that their shoutbox can lift the visibility of a blog in just a week or month of usage. The percentage is affected by the content of the blog.
Like the speed of Instagram uploads, Chatwing's free chatbox will be able to reach many people in just a flicker. However, the largeness of the Internet is still considered in Chatwing's strategic expansion. To keep the chatbox more stable and reliable than ever, the developers are planning to introduce more upgrades and platform developments. Additionally, the Chatwing team is also maintaining a blog and Facebook page filled with timely content.
About Chatwing.com
Chatwing.com specializes in the new field of website chat. Over years, the Chatwing team has introduced live chat box for hundreds and thousands of blogs. The Chatwing application bridges people from many parts of the world, creating global synergy through the Internet. The shout box can be installed in just seconds, and it can be used for varying purposes such as leisure and Internet marketing. It also allows a user to customize the size, color, and name of the widget. Chatwing is 100% free for everyone.