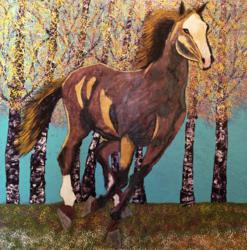 Santa Fe, New Mexico (PRWEB) August 12, 2012
Touché is a painter, sculptor, musician, and contractor. Ringo Starr chose Touché as the builder of his NM home. Another client, an artist, taught him to paint. Today many of his clients purchase his art. Touché recycles rusted steel into unique outdoor fireplaces, and writes and records his own songs in Spanish and English. And he paints. Touché paints landscapes, buffalo, horses, and murals; the largest so far is 27 feet tall. The company, Last Gallery on the Right, the home base for Mr. Touché, is a featured business on Hutton Broadcasting radio stations. Hutton Broadcasting is the parent company of SantaFe.com.
His creative life began when he was a child on his grandparent's horse ranch in Pecos, New Mexico. Touché's Latino grandfather and Arapaho grandmother shared stories and encouraged him to explore. His art reflects the folklore of his upbringing and his keen observations of the natural world.
The horses on Touches' paintings stand regally, facing straight forward, appearing ready to prance off the canvas. The paintings are alive with color, and even perhaps reminding people to celebrate their differences.
Contact information:
Linda Storm
http://santafegallery.biz
505-660-5663
Email: lastgalleryontheright at gmail dot com
About SantaFe.com:
SantaFe.com provides locals and visitors to Santa Fe alike the most current interactive platform for events, music, arts, business, dining and lifestyle. SantaFe.com is a division of Hutton Broadcasting, located at 2502 C. Camino Entrada, Santa Fe, NM 87507
Contact Information:
Scott Hutton
SantaFe.com / Hutton Broadcasting
http://www.santafe.com
(505) 471-1067 (Media inquiries only, please)