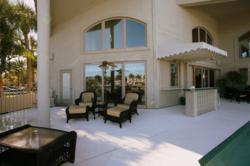 "We are happy to have Cardinal Glass Industries as a business partner to improve on what Stanek Windows already offers." Rick Jones, President, Stanek Windows
Cleveland, OH and Tampa, FL (PRWEB) August 14, 2012
Stanek Windows Corp., a window and door manufacturer headquartered in Cleveland, Ohio, announced today the addition of Cardinal Glass Industries Sea-Storm Hurricane Glass to its Series 4000 Ultra Hurricane Impact Window and Patio Door line of products.
Sea-Storm Hurricane Glas s is designed to pass stringent building requirements in high wind coastal areas found along the Florida Gulf of Mexico coast where Stanek Windows has sold and installed windows since 1997.
Stanek Windows General Manager in Tampa/Clearwater John Stafford said, "We were looking for a glass product that would take our premium impact window line a step up from our offering developed in 2002. We believe the Cardinal line of glasses will enhance the windows and patio doors that we manufacture, sell and install in our market."
Anyone that lives in the Greater Tampa Bay area and west coast is fully aware of the climatic conditions that come with the beauty and life style living as a Floridian. The recent Tropical Storm Debby was a reminder of the high wind and rain conditions that happen awhile most days are hot, humid and sunny.
"We are adding Cardinal's LoE3-366 glass (pronounced Low E cubed 366) to the Sea-Storm and with our unique insulated glass package of the laminated glass to the exterior it will also increase energy saving values," said Stanek Windows President Rick Jones, a 28-year veteran of the window industry. "During the two year tax credit period, many companies compromised safety for the tax credit. Stanek Windows did not because we felt keeping the laminated glass to the exterior protects against intrusion be it storm debris or intruders. Most windows sold in Florida have the laminated glass to the interior relying on a single pane of glass as protection. Now with the addition of Cardinal Glass products to our window and patio door line, we can maintain the strength of our design and improve energy performance to offer some of the most efficient products in the state."
As much as half of the energy used in a home goes to heating and cooling. Making smart decisions about a home's heating, ventilating, and air conditioning (HVAC) system can have a big effect on utility bills and comfort according to the ENERGY STAR. Energy Star is a joint program of the U.S. Environmental Protection Agency and the U.S. Department of Energy helping save money and protect the environment through promoting energy efficient products and practices. A common loss area is leaking and inefficient windows and doors.
Florida has more old metal windows and doors with single panes of glass that other coastal states because of is peninsula geography. During the build-up years of the last 40 years builders and buyers were not concerned about energy costs. Homes especially were built with large windows and doors and extra glass walls for the views. Then came the recent years of high energy costs as fewer power plants were built, oil and gas prices increased caused by speculation as much as limitation of supplies.
"Energy Star is the regulator of what is required in the four zones of our country. We were in compliance with the two zones we sell that include the states of Florida, Wisconsin and Ohio. The new glass alignment will allow us to offer windows and patio doors that far exceed Energy Star requirements and offer home owners additional comfort in their daily lives," stated Jones. "We are happy to have Cardinal as a business partner to improve on what we offer."
Reference:
http://www.energystar.gov/index.cfm?fuseaction=find_a_product.showProductGroup&pgw_code=WI