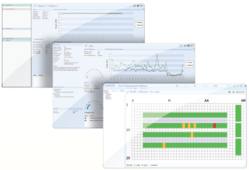 The integration of Tripp Lite products into the RaMP DCIM solution provides customers a visual view of power and environmental conditions at the rack and data center levels.
St. Louis, MO (PRWEB) August 15, 2012
No Limits Software announces integration of the full line of Tripp Lite data center products, including UPSs, rack PDUs, transfer switches and environmental monitors, with their RaMP Data Center Infrastructure Management (DCIM) solution.
Tripp Lite offers a full line of data center solutions, including Uninterruptible Power Supplies (UPS), rack power distribution units (PDU), transfer switches and environmental monitors. These products were designed to provide enterprise class power distribution, monitoring and control in a data center. The rack PDU is the last link in the power chain, which makes it a strategic point to monitor power usage of the IT load for calculating power usage effectiveness (PUE). Tripp Lite products offer the capability to measure power usage and environmental conditions throughout the data center and report that information to a Data Center Infrastructure Management (DCIM) software solution.
"Whether a rack power feed or an individual receptacle, data center managers need real time, accurate measurements if they are to reduce power consumption," said Dave Slotten, VP of Product Marketing for Tripp Lite. "In addition to providing analytics to maximize capacity and efficiency, No Limits Software's integration of Tripp Lite products with its RaMP solution adds a visual depiction of power and environmental conditions at the rack and data center levels."
"Having worked with a number of hardware vendors over the years, I have always been impressed with Tripp Lite products," said Dave Cole, President of No Limits Software. "The quality of their solutions is well known throughout the industry and I'm excited to be able to offer our customers the ability to monitor the Tripp Lite products as a standard capability of our RaMP DCIM solution."
The RaMP DCIM solution provides the following benefits:

Auto-discovery of detailed device information
Power and environmental monitoring down to the device level
Server monitoring to identify servers which should be retired, virtualized or consolidated
Software and operating system license management
Automated change control to reduce MTTR and increase availability
Web services API provides integration with other systems
PUE, DCiE and CADE energy management calculations
Accurate capacity planning data helps to reduce stranded power and shutdown risks
Device type roll-up views provide an easy way to quickly compare device performance
Detailed rack views (device type, status, power usage, front and rear temperature)
Tracking of data center tasks
Visual data center editor makes it easy to design and edit your data center layout
About No Limits Software
No Limits Software is a leading provider of data center management solutions, including asset and change management, capacity planning and real-time monitoring. No Limits Software provides a unique solution through the automation of asset and change management, including the discovery of the asset location down to the rack unit. The Rack Management Platform (RaMP) solution allows you to understand and more effectively operate your data center by managing both IT and Facilities equipment.
RaMP automates physical audits, reduces the time to repair equipment, improves system availability and increases data center energy efficiency by providing accurate capacity planning.
No Limits Software solutions are fully scalable and all data is fully accessible via published web services API to allow you to easily integrate the solutions with your existing data center management platforms.
About Tripp Lite
Outstanding product reliability and exceptional service have been Tripp Lite trademarks for 90 years. Tripp Lite's innovations include the world's first UPS system designed specifically for personal computers, and the world's most trusted premium surge suppressor—the Isobar®—with more than 18 million in use. Tripp Lite maintains the highest level of ready-to-ship inventory in the industry with more than 2,500 different products, including UPS systems, rack systems and cooling solutions, PDUs, PowerAlert software for enterprise-level system management and control, surge suppressors, KVM switches, cables and connectivity products, inverters, power strips and notebook accessories. Headquartered in Chicago, llinois, Tripp Lite maintains a global presence with fully staffed offices worldwide. Additional information, including a list of Tripp Lite's sales offices and authorized reseller partners, can be found by visiting Tripp Lite's website: http://www.tripplite.com.