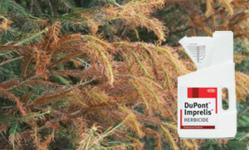 If you sustained damage to your trees and plants after Imprelis was applied, contact Wright & Schulte LLC today for a FREE case evaluation at http://www.yourlegalhelp.com, or call 1-800-399-0795.
Dayton, Ohio (PRWEB) August 13, 2012
Wright & Schulte LLC, a leading unsafe consumer products law firm, announces they have filed two new Imprelis lawsuits on behalf of Ohio property owners who sustained serious Imprelis damage, death, and significant injury to trees and plants, allegedly due to DuPont's Imprelis herbicide. The lawsuits, which were filed in U.S. District Court for the Southern District of Ohio, Eastern Division at Columbus, name E.I. DuPont De Nemours and Company as a Defendant. (Case Nos. 2:12-CV-719 and 2:12-CV-720)
According to the first Imprelis lawsuit, Plaintiffs had Imprelis applied once to their Columbus, Ohio, property on May 18, 2011. The second complaint states that Imprelis was sprayed on the Plaintiffs' lawn in Upper Arlington, Ohio, on one occasion, on May 27, 2011. According to lawsuits, Imprelis was applied to both properties in accordance with the directions, instructions, advertising, representations and warranties supplied by DuPont to lawn care professionals throughout the country. The complaints allege that Imprelis caused significant damage and harm to trees on the properties, including browning, curling, and twisting that was confirmed by certified arborists. The damage allegedly caused by Imprelis included the death of at least nine trees on the Upper Arlington property, and the death of another 20 at the Columbus property.
According to the complaints, Imprelis herbicide was introduced by DuPont in October 2010 and marketed as a safe and effective way to treat the most common and hard to kill broadleaf weeds present in turf grass without any negative impact on surrounding plants. Both lawsuits allege that DuPont's representation of Imprelis as being environmentally friendly and safe to use is simply not the truth. Plaintiffs assert that in its relatively short time on the market, DuPont's Imprelis has proven to be a frighteningly effective tree killer.
The U.S. Environmental Protection Agency (EPA) issued a Stop Sale and Removal Order for Imprelis in August 2011, after investigating hundreds of reports of Imprelis tree death throughout the Northeast and Midwest, including reports from Minnesota, Indiana, Illinois, Ohio, Michigan, Pennsylvania, Maryland, Virginia, Delaware, Wisconsin and West Virginia. By the time Imprelis was pulled from the market, it had killed or damaged thousands of ornamental landscape trees, including Norway spruces, eastern white pines, conifer trees, willow trees, poplar trees, deodora cedars, and balsam fir trees. Thousands of property owners have since filed Imprelis lawsuits seeking compensation for their damaged and dead trees. Imprelis lawsuits from around the country have been consolidated in U.S. District Court, Eastern District of Pennsylvania before Judge Gene E.K. Pratter (In re Imprelis Herbicide Marketing, Sales Practices and Products Liability Litigation, Case No. 11-md-2284).
[epa.gov/compliance/resources/cases/civil/fifra/dupontimprelis.html]
According to a report published by The New York Times on June 22, 2012, DuPont has established its own claims process to compensate property owners for Imprelis damage, and has already received some 30,000 claims under the program. However, potential claimants should be aware that DuPont is requiring property owners to waive their right to sue if they accept compensation from this program. The New York Times also reported that some homeowners have become frustrated with the pace of DuPont's Imprelis claims process and communications from the company. In light of these concerns, Wright & Schulte LLC is urging property owners to seek legal counsel before accepting any compensation offer from DuPont.
[nytimes.com/2011/07/15/science/earth/15herbicide.html?_r=1&pagewanted=all]
Wright & Schulte LLC offers free lawsuit evaluations to property owners who suffered tree damage and death following application of Imprelis. Please visit http://www.yourlegalhelp.com, or call 1-800-399-0795 to learn more about your options for legal recourse.
About Wright & Schulte LLC
Wright & Schulte LLC, a leading personal injury firm, is dedicated to the belief that America's legal system should work for the people. Every day, the attorneys of Wright & Schulte LLC stand up for the rights of people who have been injured or wronged, and fight tirelessly to ensure that even the world's most powerful corporations take responsibility for their actions. If you're looking for a law firm that will guarantee the aggressive and personal representation you deserve, please do not hesitate to contact Wright & Schulte LLC today. Free case evaluations are available through http://www.yourlegalhelp.com, or call 1-800-399-0795.
Contact:
Wright & Schulte LLC
812 East National Road
Vandalia, Ohio 45377
1-800-399-0795
http://www.yourlegalhelp.com