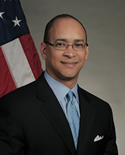 Small and minority-owned businesses must play a significant role in our efforts to restore economic growth. Small businesses employ half of the nation's private sector workforce. President Barack Obama
Boston, MA (PRWEB) August 14, 2012
David Hinson, National Director of the United States Department of Commerce, Minority Business Development Agency (MBDA) will be the keynote breakfast speaker at the Greater New England Minority Supplier Development Council (GNEMSDC) 2012 Business Opportunity Fair and Expo at Foxwoods Resorts and Casino on Friday, September 14. Director Hinson leads the only federal agency specifically dedicated to building strong minority businesses.
Mr. Hinson oversees a national network of 40 MBDA Business Centers, including centers in Alaska, Hawaii and Puerto Rico and the first of its type Federal Procurement center located in Washington DC. MBDA's core mission is to expand the U.S. economy and create new jobs by promoting the growth and global competitiveness of large, medium and small businesses that are minority-owned.
Since the start of the Obama Administration, MBDA has assisted minority-owned firms in obtaining nearly $12 billion in contracts and capital, creating and saving over 20,000 jobs. Under his leadership, MBDA has experienced the three best performing years in the 43-year history of the Agency.
The GNEMSDC is a 501 c-3 corporate business membership organization committed to growing business relationships between large public and private sector corporations and certified MBEs. The GNEMSDC is the regional affiliate of the NMSDC, and covers the six New England states of MA, NH, VT, RI, CT and ME. The GNEMSDC has over 200 corporate members and certifies over 400 MBEs.
The Greater New England Minority Supplier Development Council (GNEMSDC) annual Business Opportunity Fair and Expo will take place at the MGM Foxwoods from Wednesday, September 12 through Friday, September 14. The program features nationally renowned speakers and business professionals, one on one meetings between corporate buyers and attendees, 20 minute presentations by both corporate members of GNEMSDC and certified Minority Business Enterprises (MBEs), and networking receptions.
For more information about the GNEMSDC and the Business Opportunity Fair and Expo, visit http://www.gnemsdc.org.