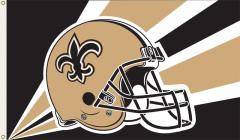 New Orleans, LA (PRWEB) August 13, 2012
With the success of their August 1st thru 5th sale, in honor of the NFL Hall of Fame Game, Hrubes Sportz wants to give all fans a better opportunity to purchase their favorite NFL team collectibles. The start of the NFL's regular season is not scheduled until September; Hrubes Sportz is honoring all NFL teams and their fans by continuing this sale through the preseason.
Fan Gear, especially NFL Fan Gear, is the top selling category for Hrubes Sportz. This company assures they have a good selection of products from which to choose. All 32 teams are represented well in each team's respective category. With an average of 40+ products for each team, Hrubes Sportz is certain customers can find a product that shows support for their favorite team. Showing support is a fan's best way of showing they are a true fan.
Another note that Hrubes Sportz added is some of the products may vary among teams. If a customer should see a product they like for the New Orleans Saints but not with their team, they may email Hrubes Sportz and see if it is available. There is no extra charge for this service, but Hrubes Sportz cannot guarantee the product will be available. All they do guarantee is that they will do the best to find the product for the specific customer.
About Hrubes Sportz LLC:
Founded in January 2012 by a young entrepreneur, Kyle Hrubes, a native of New Orleans, who appreciates why Louisiana is called "Sportsman's Paradise." It is the goal of Hrubes Sportz to provide quality products at reasonable prices so customers can maintain their active lifestyle. Whether it is hitting the links, being on the water, hitting the trails, rooting for a favorite sports team or just being a fan of sports in general, we are here to provide you with anything you may desire. Visit http://www.hrubessportz.com