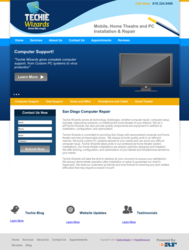 San Diego, Ca. (PRWEB) August 12, 2012
CEO of techie Wizards, Brian Laird comments on their free custom website and the company that helped get them started online. "We couldn't be more pleased with what Rocketforce.NET is doing for us. In this economy, an act of good faith can make all the difference for promising businesses such as ours."Rocketfforce.NET interviews companies and then determines if they would be of great help during the first critical steps of developing a stable business. Techie Wizards is a service-based company, providing assistance with computer repair, data recovery and home theater system installation. Due to the amount of searches conducted each month for this particular industry, having the right online marketing plan can make all the difference in sales. "We look at the marketplace online of those who come to us for help. Being a small business ourselves, we naturally want to offer all that we can to help others increase sales. For this reason, we conduct a thorough review of the industry in question," COO – Blake Warner reports.
In San Diego County alone, Techie Wizards has huge potential for business online. On average, each key word for services offered by Techie Wizards gets searched well over a few thousand times each month. "To put into perspective, we have clients who's key words only get searched a few hundred times and they are receiving calls every day from the internet," Blake Warner Reports. Search Engine traffic is important, but it is not the only source online that brings new business. "Getting our clients on the first page of Google is very important. However, a few months down the road after we achieve first page placement, search engines end up accounting for about 60-70 % of website traffic for our clients," CEO –Aaron moon reports.
Rocketforce.NET focuses on building a strong Internet presence in general, by setting up social network sites, business directories, blogs and submitting articles. The company believes that focusing on quality content is the best route to take for increasing website traffic. "There are a lot of companies who specialize in SEO. We feel that SEO is just another word or "SHORTCUT." Establishing long-term results in search engines takes hard work and dedication. Our approach to online marketing is a proven technique for maximizing traffic levels," COO – Blake Warner Concludes.