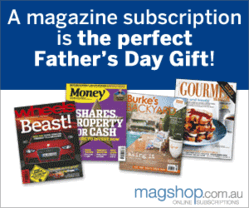 (PRWEB) August 13, 2012
Magshop loves Father's Day, almost as much as Dads love the Kimberley. So to really celebrate the old man's special day this year, Magshop are giving away an adventure trip of a lifetime. One lucky winner and their guest of choice will receive the ultimate backyard escape, a trip for two to the magnificent Kimberley region in stunning northern Western Australia, valued at over $42,000.
To start things off on a high note, the trip includes a 10-night cruise from Broome to Darwin (or vice-versa). While on board, the winner will reside in the luxurious 'Owner's Suite', where 5-star is the standard, with outstanding service from the 75-strong crew of Orion Expedition Cruises. Indulge, with delicious gourmet meals (included), 24-hour room service and an onboard pampering package, including massage and facial. It's all part of the experience for the lucky winner.
Dads deserve a little spoiling every now and again, and the Kimberley provides the perfect location for any Dad's great getaway. From crackling clays to majestic mountains, the region is truly one of the most desirable in all of Australia. Its unique and diverse environment is nothing short of breathtaking. If you've never been before, the Kimberley is a destination set to make a lifetime impression, you couldn't ask for a more inspiring spot to spend this wonderful time of the year.
The winner will have the opportunity to discover the coastline that lies between Darwin and Broome. They'll also see the abundant marine life, visit the powerful Horizontal Falls, and enjoy cultural delights at the ancient Gwion Gwion rock art galleries. And to top it all off, both the winner and the lucky person they decide to bring will take a scenic lite plan flight over the famous Bungle Bungle Ranges and a helicopter ride over Mitchell Falls. The experienced expedition team from Orion know what's required to make this expedition one to remember.
With outstanding entertainment and educational programs, and a rare opportunity to learn about the impressive local geology, life in the marine environment, and the eclectic indigenous history of the area, this is truly a tailored expedition for those looking to navigate through the remarkable, blending world-class luxury, with local splendour.
Over the 10 days, the vessel will explore everything from secluded beaches to river inlets, waterfalls to incredible gorges. It really is an awesome adventure. On top of all this, the winner and guest will be flown from their nearest capital city to the cruise departure point. On arrival, they'll receive a bottle of French champagne to welcome them aboard.
So how can you go into the draw to have your slice of true Aussie paradise? Simply purchase a subscription to one of Australia's 18 popular men's magazine titles - from Burke's Backyard to Rolling Stone, Magshop has titles to suit every type of Dad. Simply select one to get your name in the draw. It's also a fantastic time for those looking to renew existing magazine subscriptions. Subscribing is a great way to receive discounts of as much as 46% off the retail price, plus the overall convenience of having your latest mag delivered to your doorstep - with the added bonus of an entry in the competition draw!
It all begins from here. You're already on the right page, so subscribe or renew today.