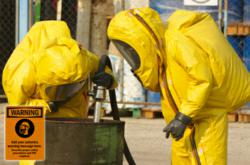 "OSHA regulations are only effective when workplaces are fully compliant," says Cole Paulson, Manager at MySafetyLabels. "Properly placed OSHA labels will help any workplace comply with OSHA regulation and keep workers safe from preventable harm."
Brooklyn, NY (PRWEB) August 14, 2012
MySafetyLabels.com, the web's top retailer in safety labels, has released a new set of custom OSHA safety labels. The new labels are typical used to warn workers of potential hazards and keep workplaces free from preventable danger.
According to OSHA's website, in 2010, nearly 3.1 million nonfatal workplace injuries and illnesses were reported by employers in private industries. The high workplace injury rates from preventable injuries have led to increased regulation from OSHA in recent years, including more of an emphasis on the utilization of personal protective equipment (PPE).
The Code of Federal Regulations and OSHA require that labels or signs be placed in a number of potentially hazardous locations, such as hardhat zones, confined spaces, and areas containing asbestos. Each of the new labels contains an attention-grabbing word at the top, such as "Warning," "Caution," or "Notice," as well as a graphic and customized text to alert workers of specific hazards. "OSHA regulations are only effective when workplaces are fully compliant," says Cole Paulson, Manager at MySafetyLabels. "Properly placed OSHA labels will help any workplace comply with OSHA regulation and keep workers safe from preventable harm."
The new OSHA labels are completely customizable, allowing employers to put a more personal spin on workplace warning, caution, and safety labels. The website's customization wizard also allows users to add text and preview the customized labels before purchasing.
The labels are available in laminated vinyl, glow vinyl, and engineer grade reflective film. The laminated and reflective labels are able to withstand the elements and last at least five to seven years outdoors. Glow vinyl labels use photoluminescent technology to ensure that the label is readable even in the dark.
For more information, please visit http://www.mysafetylabels.com
-ENDS-
About MySafetyLabels
MySafetyLabels is the leading online distributor of safety and warning labels. Thanks to the labels' clear and readable fonts and brilliant graphics, the labels are portable reminders to use proper precautions.
About SmartSign
SmartSign is one of America's fastest growing e-commerce companies and parent of MySafetyLabels, MyParkingSign, and more than 50 other sites. The company manufactures and distributes a wide range of signs, tags, mats, and labels. By positioning "signs as solutions," SmartSign has taken a novel approach to ordering signs. Through highly targeted, content-rich, and authoritative retail sites, the company provides specific solutions to specific problems, such as customizing a safety label. SmartSign is widely recognized for its quality construction; its signs come with a 3M® warranty and outlast fast-fading, ink-jet signs. Other SmartSign advantages include fast and free shipping, the Web's largest range of designs, and a best-price guarantee.