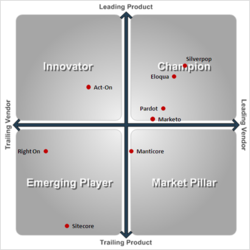 London,ON (PRWEB) August 14, 2012
Adopting LMA software can increase company revenue by more than 15% according to new research published by Info-Tech Research Group. The Lead Management Automation Vendor Landscape report ranked Silverpop, Eloqua, Pardot and Marketo as Champions in a market where the benefits of implementation far outweigh the means.
"The benefits of an LMA system transcend substantial cost savings. We witnessed companies saving more than 21% more time than other organizations,"said Tim Hickernell, Research Director, Applications at Info-Tech Research Group. "There's also a significant improvement in acquisition rates, when adopting this technology. LMA facilitates closed loop sales and marketing, enabling users to find qualified leads and convert them into customers faster. Managing the sales lifecycle is absolutely essential for B2B business and profitability."
According to the report, Champion vendor, Silverpop, is leading the way in social marketing and continues to innovate with mobile, recently introducing 'kiosk style' tablet marketing. With proven longevity in the marketplace, Silverpop has over 1,500 clients across a variety of industries. Earning both the Trend Setter and Best Overall Value awards, Silverpop's use of mobile has taken a step toward satisfying market needs, through 'kiosk style' tablet marketing.
Ranking as a Champion in the report, Eloqua offers all the bells and whistles with their robust and user friendly platform. A market leader in the LMA space, Eloqua sets the gold standards for campaign management with ease of use and an intuitive interface. Eloqua offers strong performance and a simplified user interface making lead management more manageable.
Also a Champion, Pardot's product partnerships and market strategy play to the needs of SMB clients, including a mobile app for marketing and sales professionals. According to the report, Pardot's LeadDeck is an impressive desktop application, providing exceptional lead intelligence for the marketer.
For the full list of Info-Tech Research Group's recommendations for selecting a Lead Management Automation Vendor, visit: http://www.infotech.com/research/ss/select-the-right-lead-management-automation-solution
Info-Tech Research Group Vendor Landscape reports recognize outstanding vendors in the technology marketplace. Assessing vendors by the strength of their offering and their strategy for the enterprise, Info-Tech Research Group Vendor Landscapes pay tribute to the contribution of exceptional vendors in a particular category.
About Info-Tech Research Group
With a paid membership of over 25,000 members worldwide, Info-Tech Research Group (http://www.infotech.com) is the global leader in providing tactical, practical Information Technology research and analysis. Info-Tech Research Group has a fourteen-year history of delivering quality research and is North America's fastest growing full-service IT analyst firm.