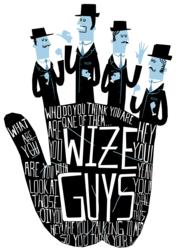 "What will set us apart in the long run is our dedication to broadcast quality content delivered daily." -Todd Chamberlain
Hollywood, CA (PRWEB) August 15, 2012
Wize Guys—an online comedy network launched today with the aim of providing progressive, over-the-top comedy to viewers. The website—which consists of original, exclusive content, including scripted series and animated shorts, is aspiring to take online comedy to an elevated level through SNL-style skits and daily comedic postings.
With today's launch, viewers will get a taste of what is to come by previewing an exclusive video short. In the future, new Wize Guys original shorts will be featured each Tuesday, however visitors to the Wize Guys site will enjoy daily content, ranging from funny photos, to comedic/sarcastic inspirational quotes. Eventually the site will support user-generated content and exciting contests that will allow site visitors to vote for their favorite posts.
Slated as part of the Wize Guys line-up is the hilarious "Geo's Pizza" series season 1. "Geo's pizza revolves around 3 slacker friends who inherit a pizzeria from one of the character's uncles. In an ongoing effort to save their business the three oddball friends stick together and embark upon a journey of bad decisions, twisted views, and perilous judgment that gets worse before it gets any better. Another soon-to-be favorite is "Cocks"—which centers on a hooters-style restaurant with a role reversal of sorts; Cocks features scantily clad male waiters catering specifically to women.
Content will be updated daily giving loyal viewers the opportunity to view new material. "What will set us apart in the long run is our dedication to broadcast quality content delivered daily," says Todd Chamberlain, co-creator of Wize Guys. "Our goal was to bring together a talented group of comedy writers, producers, directors and performers to create something that isn't on the web," says Geo Santini, founder of Wize Guys. In addition to the launch of Wize Guys, Santini is in pre-production and development of his short film, "October 31"—which will premiere at the New York International Film Festival presented by HBO.
To visit the Wize Guys site, go to: http://www.wizeguyscomedy.com. For more information on Wize Guys, please contact Todd Chamberlain at 818.533.8036. For press inquiries, please contact Reese Bright at: 323.366-0738 and/or reesebright@yahoo.com.